Check out our Halloween Money Back Promotion.
Alongside our FREE fun over Halloween for the kids (Click here to find out more), we are running our money back promotion from the 19th October – 28th October.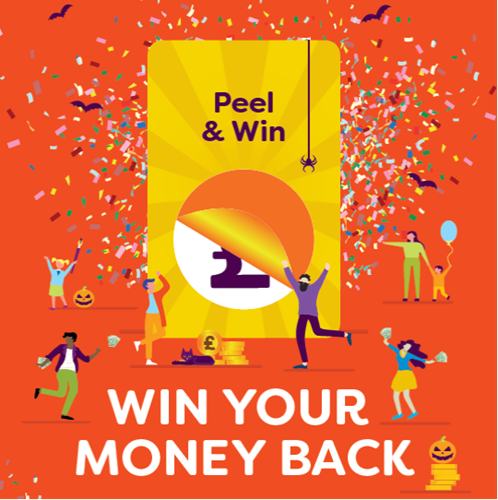 Any guest that spends £40 or more within the centre in one day can bring their receipts to the Ask Me More where they will then receive one peel and reveal card for the chance to win one of the prizes from the prize list (£40 Gift card, £10 Gift Card, £5 Gift Card and No Win)
All customers will also receive a code to go online and enter our prize draw for the chance to win a £500 Mall Gift Card.
Money Back Promotion – Terms and Conditions 
To participate, customers must be able to prove they have spent £40 in The Mall Maidstone, The Mall Walthamstow, The Mall Wood Green or £50 in The Mall Blackburn, The Mall Luton within a single day. Qualifying purchases can not be used more than once to gain entry, nor transferred to other participants.
Participant's proof of purchase should be presented to a staff member at the Ask Me Point desk or designated promotion area for a chance to receive a peel and reveal card at random.
Chances to win are subject to availability. Per Mall daily during the promotion period there are:
1 x £40 every day in The Mall Maidstone, The Mall Walthamstow, The Mall Wood Green
1 x £50 every day in The Mall Blackburn or The Mall Luton
5 x £10 Mall Gift Card and 10 x £5 Mall Gift Card every day in The Mall Blackburn, The Mall 
Luton or The Mall Maidstone
5 x £10 Love2Shop vouchers and 10x£5 Love2Shop vouchers every day in The Mall   
Walthamstow and The Mall Wood Green
All monetary prizes will be loaded onto a Mall gift card or in Love2Shop vouchers. No cash alternatives are available. Usual gift card terms and conditions apply and are available from the Ask Me Point and www.themall.co.uk/terms-and-conditions.aspx
The promotion runs from 19/10/2019 to 28/10/2019 inclusive.
The promotion will run in The Mall Blackburn, The Mall Luton, The Mall Maidstone, The Mall Walthamstow and The Mall Wood Green.
Entry is open to UK residents aged 16 or over, excluding employees, agents, their families or anyone professionally connected to the promotion.
One entry per customer per day, however customers can enter on subsequent days as long as the entry requirements in point 1 have been met.
Each peel and reveal card will have a unique code that can be entered on our website for the chance to win 1 x £500 Mall gift card or Love2Shop vouchers.
By providing your details you are agreeing that we may contact you by email and post with the latest offers, events and news from The Mall. We promise not to share your data with anybody else, and you can opt-out at any time. For full terms and conditions and our privacy statement please visit the Ask Me Point or go to www.themall.co.uk/terms-and-conditions.aspx
All winners may be required for post-event publicity.
Winner's names will be available by writing to 'Mall Money Back Week Promotion' The Mall, Capital & Regional, 22 Chapter Street, London, SW1P 4NP
The promoter reserves the right to cancel or amend this promotion due to events arising beyond its control. Neither the promoter nor its agents are responsible for third party acts or omissions.
Promoter: The Mall, Capital & Regional, 22 Chapter Street, London, SW1P 4NP