Hard Calls Save Lives
It can be daunting to pass on information about knife crime. You might be unsure what information is useful or what happens to it.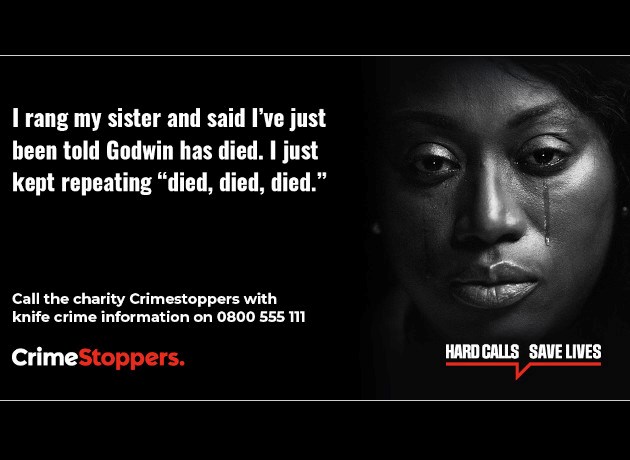 Crimestoppers are not the police. They are an independent charity who provide a safe place for people to speak up about a crime.
Anything you report to Crimestoppers is 100% anonymous. Crimestoppers has an anonymity guarantee, which has never been broken.
When you make a call, a specially trained call agent will support you, without judgement. They won't ask how you've obtained the information.
It may feel like a hard call, but your call could stop someone else's son or daughter being killed.
Call Crimestoppers anonymously on 0800 555 111 or report online. Search 'Hard Calls Save Lives'.
https://www.hardcallssavelives.co.uk
The Mall Wood Green is working with Godwin Lawson Foundation for the third year running to help keep young people safe. 
The Godwin Lawson Foundation (GLF) is a registered charity founded in 2012 by Yvonne and Calvin Lawson to commemorate the life of their son, Godwin Lawson. Godwin was stabbed in the street in Stamford Hill, trying to prevent two of his old school friends from being attacked by four young men. He was just 17.
Following his tragic death, Yvonne began researching gangs and knife crime. Shocked by its scale and impact, she became determined that Godwin's legacy should be something to help keep young people safe, and prevent other families having to go through the pain and loss that hers had suffered.
Our aim is to reduce gun and knife crime by encouraging young people to identify their talents and fulfil their potential through providing positive opportunities so that they can avoid gang life and develop their capabilities as members of a tolerant society.
Yvonne's story
Calling with information about knife crime may feel hard, but there are harder calls. Like the call Yvonne had to make when her son Godwin was murdered. You can help save a life by calling to report information. Even tiny details can help stop knife crime and keep your community safe.
Call Crimestoppers, 100% anonymously. Hard Calls Save Lives.