Peaceful Green: Our Rooftop Oasis
THE MALL CREATES NEW GREEN SPACE WITH ROOFTOP GARDENS
The Bugs Are Coming Home!
Children from a Wood Green primary school have helped to name two new rooftop gardens, recently created by The Mall Wood Green, in partnership with GrowN22 C.I.C.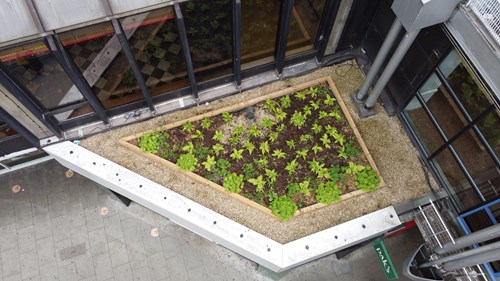 The Peaceful Green gardens were named by Year 2 Sapphire Class of Devonshire Hill Primary School as part of a competition run by The Mall. The inventive class won £200 towards an environmental project of its choice and is now planning to build a wildlife pond full of frogs, fish and newts.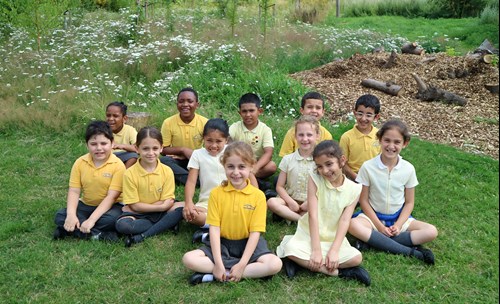 Year 3 Coral Class was also chosen as a runner-up for its very creative suggestion, 'The Bugs Are Coming Home' and this tag line will be used as a sub-header in all communications from The Mall about the gardens.
The idea for the garden project came from The Mall Wood Green's Marketing Manager, Catriona Baillie, who had seen other companies sharing different types of urban greening interventions on social media. She wanted to create a small area of wild greenery amidst the urban environment of the shopping centre: "There's a guerrilla campaign on Twitter where people are reclaiming urban areas such as parking spaces and making them 'green' and I thought this would work well at The Mall," she explains.
"I mentioned it to our Technical Services Manager, Mohammed Farooq, and he thought that the roof of Pak's - a retailer specialising in African and African Caribbean hair and beauty products - would be a great place to start."
GrowN22 specialises in urban greening and has a portfolio of community projects across Haringey, in particular the N22 area where The Mall and the Library Gardens are located. Catriona worked alongside GrowN22 Founder, Luke Newcombe, to devise a plan which would enhance the rooftop area.
A team from the shopping centre, led by Mohammed, who has worked at The Mall since 1986, broke ground on the project on Monday 31 May.
"Working with the team at The Mall on the new Peaceful Green project has been a fantastic opportunity to increase biodiversity and urban greening on Wood Green High Road," says Luke. "The Mall's rooftop gardens connect into a flourishing ecosystem at the Library Garden and it's now just a question of time as to when insects will take up residence and birds will begin to use the spaces for feeding and nesting."
The team created a mini oasis amidst the urban landscape. The new spaces took three days to complete, and shoppers can now view them from the bridge by Burger King and next to Guest Services on the upper mall.
The project was part of The Mall's 40th anniversary celebrations, which are taking place throughout 2021 and also supported Mental Health Awareness Week, which this year, was all about nature.
"We noticed that there was a lack of greenery in this particular area of The Mall, and we are delighted with our new space. Not only does it look amazing, but we are hoping that it will have a positive impact on mental health," adds Catriona.