The Kent Reading Challenge
This summer, libraries everywhere are encouraging children to help solve a mystery.
The annual Summer Reading Challenge, for ages 4-11, encourages children to have fun reading over the summer holidays.
In All Kent Libraries from 15 July – 16 September
It's FREE and it's FUN!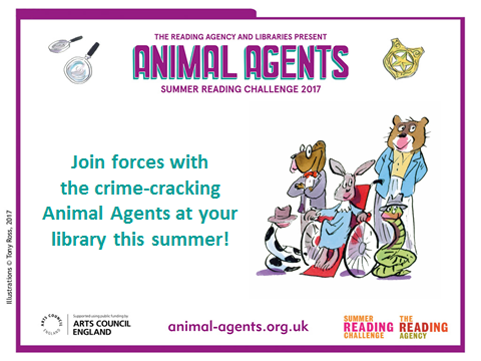 Children will receive a special folder which introduces the mystery and the Animal Agents who are trying to solve it. The challenge is to read at least 6 books over the summer (whatever children choose) and collect special stickers along the way. The stickers have amazing artwork by Tony Ross - some have scratch and sniff smells too! They fit into the Animal Agents folder, and collecting them all solves the mystery. On finishing, children receive a certificate and a medal (while stocks last). There are other Animal Agents themed incentives and activities as well – check them out at your local library! 
Last year nearly 18,000 Kent children got involved in the Summer Reading Challenge.
"I really enjoyed getting my medal.  I was leaping around the library.  I liked deciding how many stars to give to each book after I read it".
"The incentive of winning a medal really helped motivate my son to get through the books as he often lacks confidence in his ability to read".
Find out more on the website www.animal-agents.org.uk
Contact your local library for information on local events and activities that support the challenge. 
The Reading Agency's annual Summer Reading Challenge, delivered by libraries, gets three quarters of a million children into libraries to maintain their reading skills and confidence.