Our Sponsored Guide Dog
We are happy to announce, it's a Boy!
Milo (our sponsored Guide Dog) was born on the 25th April 2020, and will soon be placed with his Puppy Walker, who will start to teach him the skills that he will need as a future guide dog.
This is the beginning of a very exciting journey for Milo. For now, he is an uncoordinated bundle of fluff but soon he will be supporting individuals and making a positive change to their lives.
Here is our little Milo looking very cute at only 6 weeks old!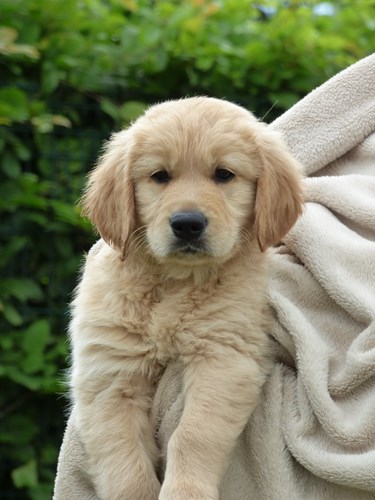 Over the next few weeks and months we look forward to sharing the beginnings of his transformation into a responsible guide dog with you all.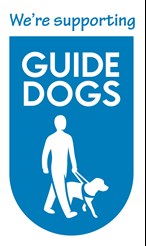 Pupdate at 12 weeks old!
Milo has been living with his Puppy Walker, Jon, for a little while now, so Guide Dogs have caught up with Jon to find out how things are going.
"Many Puppy Walkers have a few sleepless nights when their pup first arrives, as puppies can sometimes be a little unsettled in a new environment. However, Jon told us that they had no such issues, as Milo has slept soundly almost every night since he moved in! This is probably because he feels so comfortable in the cosy puppy crate he sleeps in, but also, he seems to be a very calm pup in general.
One of the first things pups need to master when they move to their new home is toilet training. They are encouraged to respond to the 'busy' toileting prompt, which is taught to all guide dog pups and is designed to encourage 'spending' in appropriate areas. This is still something of a 'work in progress' for Milo, as he still has a few accidents here and there, but he is improving all the time.
Jon has begun introducing Milo to some basic obedience commands, and he was proud to report that Milo is a very intelligent puppy who is keen to learn. Milo has already got to grips with the commands, 'sit', 'down' and 'stay', and they are currently working on 'up-sit', which is very impressive for such a young pup.
Jon describes Milo as an inquisitive, mischievous, intelligent and single-minded puppy, who has a real cheeky side! He tells us that if you 'turn your back for a moment, Milo will chew anything from plants to handbags', and he often 'waltzes off' with items such as glasses cases and toilet rolls, and he's even eaten some cheese that was left on the coffee table for just a fraction of a second!"
The Guide Dogs team thinks that Milo sounds like a wonderful, bright and cheeky little pup who has got off to a great start with his training. We hope you've enjoyed reading his first pupdate, and we look forward to sharing his next report card from his Puppy Training Supervisor.