Kids' Christmas Parties
We're celebrating Christmas at The Mall Wood Green with four days of family fun from Saturday 18th to Tuesday 21st December.
Each day we're bringing famous cartoon characters and entertainers to The Mall, plus our team of happy elves to bring good cheer to everyone!
Find our entertainers opposite Cineworld on the Upper Mall.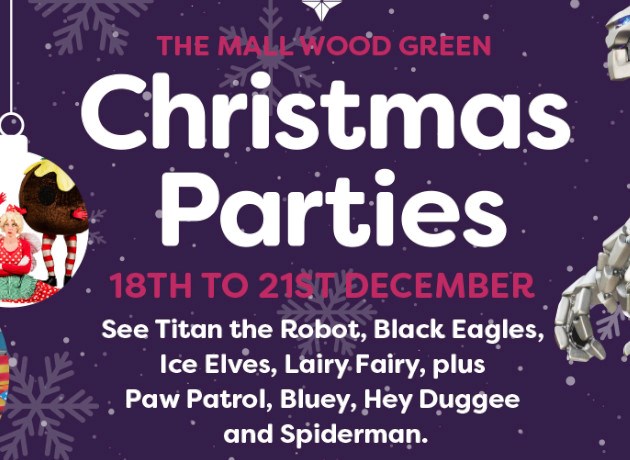 SATURDAY 18th DECEMBER
Meet Marshall from Paw Patrol
The Black Eagles, Tanzanian Acrobats - Shows at 1:00pm and 3:00pm
Thrill to these amazing masters of movement.
SUNDAY 19th DECEMBER
Meet Bluey, a lovable and inexhaustible puppy from the TV show
Titan the Robot - Shows at 11:00am, 1:00pm and 3:00pm
Performances of this Giant Robot that are genuinely out of this world
Plus, visit our Elf Car on the lower mall next to Primark where our cheeky elves will take a fun photo of you for free and instantly print it as a take-home souvenir. Plus, you can even chat with Santa live in the front seat at the control panel! Simply drop by between 11am-5pm to enjoy some festive magic.
MONDAY 20th DECEMBER
Meet Hey Duggee, a big, lovable dog who runs the Squirrel Club,
Acrobatic Ice Elves - A pair of frosted Ice Elves, silvery like glaciers and with pointed hats and snow flaked cheeks, perform an Arctic acrobatic balance act with breath-taking contortions and extraordinary counter-balances.
TUESDAY 21st DECEMBER
Meet the amazing Spiderman
Lairy Xmas Fairy and the Magic Christmas Pudding - This Christmas Puddings loves dancing to cheesy Christmas tunes and quietly sneaking up on you for a quick cuddle! If he gets into too much trouble, the Lairy Fairy is there to sort him out!