Celebrate Thank You Day with us on Sunday 4th July!
We've all got someone to say thank you to this year. Whether it's the neighbours for checking we were okay, the delivery drivers who kept food on the shelves, the volunteers who helped get the vaccine out, or the kids for keeping us entertained – we want to get together to say thank you to them all.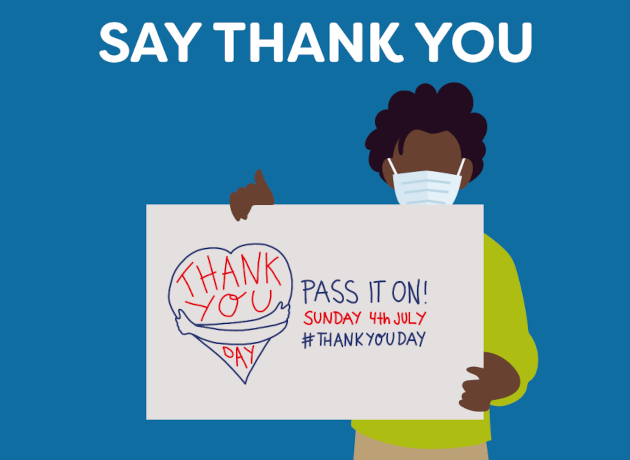 This Sunday 4th July is Thank You Day, and we're joining alongside some amazing organisations including the NHS, Royal Voluntary Service and National Citizens Service to say thank you to everyone who deserves it.
Visit our Facebook page or Instagram to tag someone you would like to say thank you to and be in with the chance of winning them a £50 Love to Shop Gift card* (T&Cs apply).
Join the celebrations, find out more about how you can take part and spread the word about Thank You Day by visiting the Thank You Day website.
*T&Cs
Thank you day – Terms and Conditions
Social media promotion
1. The promotion runs on Facebook and Instagram
2. To enter the prize draw guests should comment and tag someone to say thank you to on our thank you day post on Facebook or Instagram
3. Prizes are subject to availability. The prize is 1 x £50 Love2Shop gift card per site, drawn at random at the end of the promotion period.
4. Winners will be contacted via social media and asked to provide an address that the prize can be posted to, prizes will be posted within 7 days.
5. All monetary prizes will be loaded onto a Love2Shop gift card. No cash alternatives are available.
6. The promotion runs from 29/06/2021 to 06/07/2021 inclusive
7. Entry is open to UK residents aged 18 or over, excluding employees, agents, their families or anyone professionally connected to the promotion.
8. The £50 Love2Shop gift card overall winner will be drawn at the end of the promotion period and the winner informed by email within 5 days. Winners will be chosen at random from all entries using random.org.
9. Any entries which in, our reasonable opinion appear to be inappropriate will be removed and disqualified.
10. If a winner does not reply within 14 days, we reserve the right to withdraw the prize and pick a new winner at random.
11. We will securely hold and process your data in line with data protection laws including GDPR. Third party access to this data is limited to those providers we use to help carry out our services to you and we will not share or sell your data to other organisations. You can access and update your information and contact preferences at any time by visiting themall.co.uk/mydata or by following the link in any of our emails. The Data Controller is Capital & Regional PLC. Full details of how we hold and process personal data can be found in our privacy policy https://www.themall.co.uk/privacy-policy/
12. All winners may be required for post-event publicity.
13. Winner's names will be available by writing to 'Thank you day Promotion' Capital & Regional, 22 Chapter Street, London, SW1P 4NP
14. The promoter reserves the right to cancel or amend this promotion due to events arising beyond its control. Neither the promoter nor its agents are responsible for third party acts or omissions.
15. Promoter: Capital & Regional, 22 Chapter Street, London, SW1P 4NP