GIDDY-UP AT THE MALL WOOD GREEN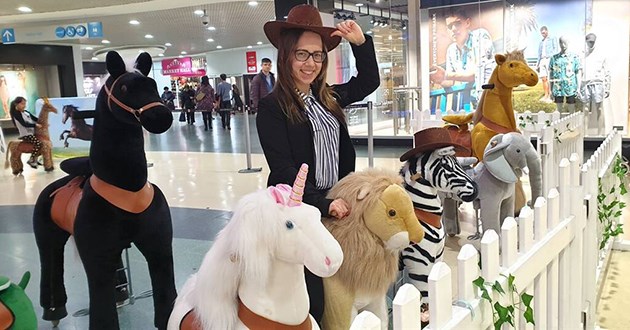 Who hasn't dreamt of riding a unicorn? Or a lion...or a rhino...or at least a pony!!!!
Dreams do turn to reality at The Mall Wood Green. At least they did this weekend for kids who bounced along on their merry rides filling the mall city square with laughter.
Warda Ahmed and Ahmed Sayed who run the pony cycle pop up called Naila's unicorn & friends has been offering entertainment to kids since the past week end. Ahmed was pleased with the overwhelming response that they received over the weekend. Saturday saw approximately 380 kids enjoy the pleasures of riding their favourite animals. "Being a mother, I understand how difficult it is for mothers to go shopping and entertain their kids at the same time. An activity like this offers parents the perfect solution to keep their kids amused", added Warda. The activity was not just all play but also promotes health. The little animals double up as a gym equipment working the lower body keeping the kids not only active but also cheerful.
So while the kids were delighted riding their favourite animals a few adults jumped in/on as well...because why should kids have all the fun!!!
Naila's unicorn & friends will continue entertaining kids all week and will be back for more for Easter So "It's going to be a rainbow and unicorns kind of month" at The Mall Wood Green.
Visit Naila's unicorn & friends at The Mall Wood Green, City square.