EVERYSKIN DOUBLES UP WITH LOCAL LAUNCHES AT THE MALL WOOD GREEN AND WALTHAMSTOW
New aesthetic skin clinic, EverySkin has chosen prime locations at The Mall Walthamstow and The Mall Wood Green for its launch. The Wood Green clinic opens its doors on Wednesday 5 May, with Walthamstow following three weeks later, on Wednesday 26 May.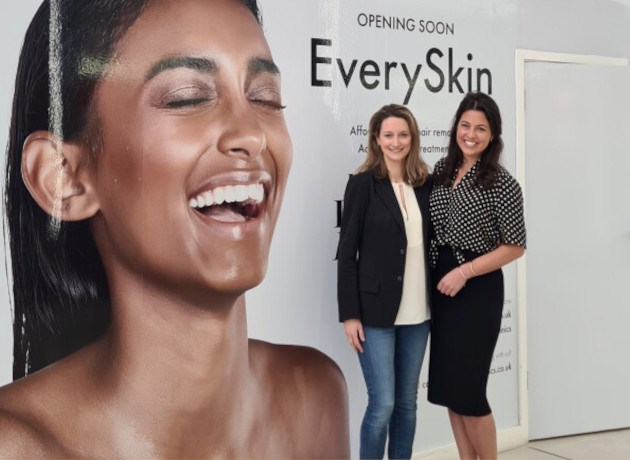 Founded in 2020 by university friends, Bridget Healy and Alice Sagnier, EverySkin offers a range of premium laser hair removal and advanced skin treatments, for every skin tone and budget. The EverySkin treatment menu has been carefully designed to serve all skin types, using the best medical-grade technology at affordable prices.
"EverySkin is founded on the principle that everyone can feel great about themselves. We are committed to making premium aesthetic treatments accessible to all, not just a select few," says Co-Founder, Alice Sagnier, former Head of Strategy at Fortnum & Mason.
Choosing accessible architect-designed locations with a beautiful, welcoming feel, EverySkin is situated next to H&M on the High Road at The Mall Wood Green while its Walthamstow clinic is at the very heart of the shopping centre, opposite Holland & Barrett.
The clinics, designed by former Store Design Director of Fortnum & Mason, Olivia Westrom, strike a balance of being warm and inviting, whilst also reassuringly clinical. They are pared back to reflect the essence of the brand, featuring natural tones with primarily UK-based materials. Lighting designers, SEAM also helped to create a comfortable space for all skin tones through appropriate lighting.
The Mall's Wood Green and Walthamstow shopping centres are the perfect locations for the brand, as Alice explains: "The Mall's local community focus and mission to create vibrant retail centres in diverse, evolving UK communities, really resonated with us. We love The Mall's emphasis on creating a sense of place for the whole community, and the support they provide retailers in delivering the best possible guest experience.
"Both Wood Green and Walthamstow represent diverse, vibrant, up-and-coming areas which currently lack affordable, aesthetic services that cater to a wide community. These are two fantastic locations, with great retail centres that we are very excited to join.
Catriona Baillie, Marketing Manager for The Mall Wood Green, commented: "We can't wait to welcome EverySkin to Wood Green. As well as being a great fit for the centre, we're very happy to be supporting female entrepreneurs in an exciting new market sector."
To celebrate its double launch, EverySkin is offering some fantastic savings as part of an opening sale, which will go live on 28 April. The company will be giving 50% off all laser hair removal treatments for one week only. Alice and Bridget will be on site at the Wood Green clinic taking pre-bookings, or customers can book or purchase packages online at everyskinclinics.co.uk. 
Launching a new business during a pandemic has been challenging as Co-Founder, Bridget, former General Manager at Laser Clinics UK, highlights: "It has certainly been interesting. With all the restrictions in place and evolving in nature since we launched the business in January, we really tried to maintain our longer-term mindset and not get disheartened by short-term challenges. We are both so excited about the evolution of the aesthetic business and the prospects for EverySkin as a modern, accessible, innovative brand. Having that conviction allowed to us to focus on the post-Covid opportunity.
"It's been wonderful to have the support of the Capital & Regional team, from marketing and insight right through to operational support. It's been hugely helpful during this difficult period and we look forward to forging a long-term partnership with them."
With ambitious roll-out plans, EverySkin will be adding new locations throughout the year, including Islington in mid-June and three further clinics in north west London in the autumn.