Christmas Opening Hours
Shop later this Christmas!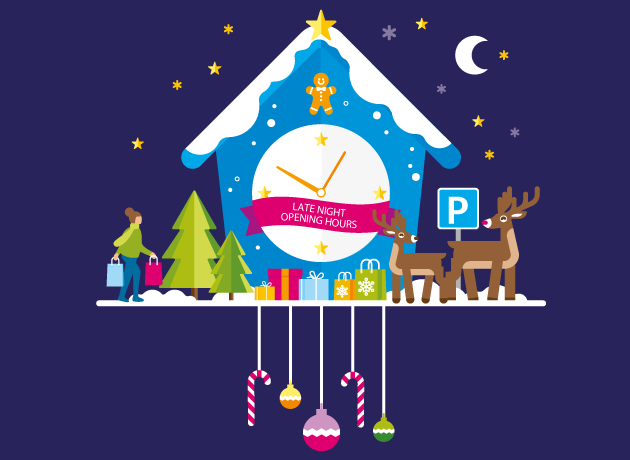 From Monday 8th December to Saturday 22nd December, the Mall is open until 8pm Mondays - Saturdays, so you can shop 'til you drop a little longer this festive season!
Cineworld and Restaurants are open from 10am – late everyday throughout the Christmas Period, so don't forget to catch a film and get a bite to eat after your shopping!
Please note: Store opening times may vary, please contact individual retailers for specific times.
Please see below for opening times.
| | |
| --- | --- |
| Monday 10th December | 9am - 8pm (Ask Me Point times: 9:30am - 6:30pm) |
| Tuesday 11th December | 9am - 8pm (Ask Me Point times: 9:30am - 6:30pm) |
| Wednesday 12th December | 9am - 8pm (Ask Me Point times: 9:30am - 6:30pm) |
| Thursday 13th December | 9am - 8pm (Ask Me Point times: 9:30am - 6:30pm) |
| Friday 14th December | 9am - 8pm (Ask Me Point times: 9:30am - 6:30pm) |
| Saturday 15th December | 9am - 8pm (Ask Me Point times: 10:30am - 6:30pm) |
| Sunday 16th December | 11am - 5pm (Ask Me Point times: 11am - 5pm) |
| Monday 17th December | 9am - 8pm (Ask Me Point times: 9:30am - 6:30pm) |
| Tuesday 18th December | 9am - 8pm (Ask Me Point times: 9:30am - 6:30pm) |
| Wednesday 19th December | 9am - 8pm (Ask Me Point times: 9:30am - 6:30pm) |
| Thursday 20th December | 9am - 8pm (Ask Me Point times: 9:30am - 6:30pm) |
| Friday 21st December | 9am - 8pm (Ask Me Point times: 9:30am - 6:30pm) |
| Saturday 22nd December | 9am - 8pm (Ask Me Point times: 9:30am - 6:30pm) |
| Sunday 23rd December | 11am - 5pm (Ask Me Point times: 11am - 5pm) |
| Monday 24th December (Christmas Eve) | 9am - 5:30pm (Ask Me Point times: 9:30am - 5:30pm) |
| Tuesday  25th December (Christmas Day) | CLOSED |
| Wednesday 26th December (Boxing Day) | 10am - 6pm (Ask Me Point times: 10am - 6pm) |
| Thursday 27th December | 9am - 8pm (Ask Me Point times: 9:30am - 5:30pm) |
| Friday 28th December | 9am - 7pm (Ask Me Point times: 9:30am - 5:30pm) |
| Saturday 29th December | 9am - 7pm (Ask Me Point times: 10am - 6pm) |
| Sunday 30th December | 11am - 5pm (Ask Me Point times: 11am - 5pm) |
| Monday 31st December (New Year's Eve) | 9am - 5:30pm (Ask Me Point times: 9:30am - 5:30pm) |
| Tuesday 1st January (New Year's Day) | 11am - 5pm (Ask Me Point times: 11am - 5pm) |
| Wednesday 2nd January | 9am - 7pm (Ask Me Point times: 9:30am - 6:30pm) |