PL84U UNVEILS MINIATURE FOOD BANK AT THE MALL
The Mall Walthamstow has kicked off a year of fundraising by pledging its support to local charity PL84U AL SUFFA with the installation of a miniature food bank outside Asda.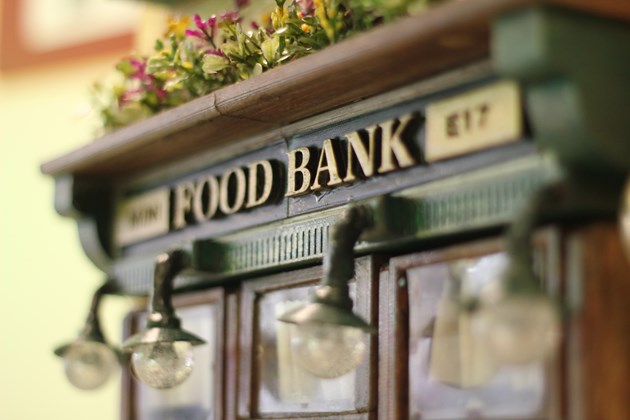 Under normal circumstances, The Mall would pick a local charity partner and spend the year raising funds and generating awareness for its chosen recipient. However, this year, the shopping centre has taken a very different approach, as Marketing Executive, Chantal Pearson explains: "So many wonderful charities have been majorly affected by the pandemic and we would like to support and raise funds and awareness for as many of these local charities as possible throughout the year."
The Mall's chosen charity (or could say 'focus') for March is PL84U AL SUFFA. The Waltham Forest-based charity provides a range of services for local people of all ages including hot meals, a food bank, companionship, recreational facilities and haircuts, sleeping bags, clothes and warm kits for the homeless.
Chantal commented: "Our aim for March is to raise awareness of the food bank and encourage shoppers to donate much-needed goods when they are out an about doing their essential shopping. The miniature food bank, which was designed by artist, Sean Rodrigo is located outside Asda and we are hoping that people will buy an extra item and pop it in the food bank on their way home. At the moment PL84U desperately needs cooking oil, sugar, tuna, sardines, basmati rice and UHT milk, so we would ask our guests to prioritise these items where possible."
PL84U Founder and Executive Director, Saira Mir explains why the food bank is so vital: "We focussed on providing the food bank services as soon as the pandemic hit in March last year. Over the year, the number of people accessing the food bank has increased massively and the numbers continue to rise on a daily basis. We pride ourselves on being #NotJustA FoodBank, as through the scheme we offer fresh fruit and vegetables, meat and dairy products. We also network with other organisations to provide activity and learning packs for children and certain special foods and gifts for celebrations throughout the year including Eid, Christmas, Easter, Mitzvahs and Chinese New Year. The Mall's fantastic support means that we will be able to reach out to more people in the community."
The last year has been a testing time for the charity and personally for Saira, who lost her mum to Covid-19 and was forced to endure a long period of isolation, having tested positive for the virus. She adds: "Despite our personal setbacks, we have been blessed to have such a great team of volunteers. They ensured that we didn't have to compromise our services in any way and that no one went hungry. Massive thanks to our amazing community for its support; collectively we are strong, and collectively we can support our fellow humans through these unprecedented times." 
Moving forward, the charity is seeking a permanent home for its services and is also looking for someone who could help with social media. "Our current base is more or less temporary, and we would love to find somewhere more permanent so that post Covid, we can re-introduce existing services and focus on expanding with some new ones," says Saira. "We feel that we have so much more to offer. If anyone can help, we would love to hear from them."