Waltham Forest London Borough of Culture 2019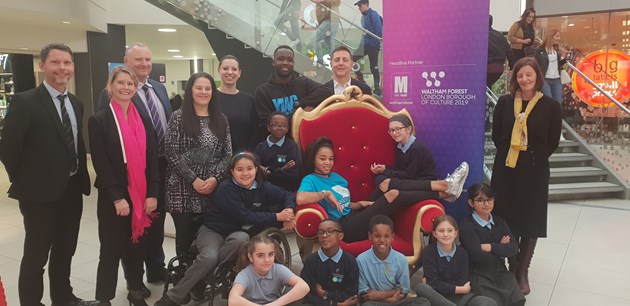 The Mall announced as first Headline Partner for Waltham Forest London Borough of Culture 2019
Waltham Forest London Borough of Culture 2019 is delighted to reveal that local shopping centre The Mall Walthamstow will be the headline partner for our year as the Mayor's first London Borough of Culture and the presenting partner of the opening event Welcome to the Forest.
To start the celebrations as the year of culture, the massive opening show Welcome to the Forest will be taking place 11 to 13 January 2019. This three night celebration will include Mercury Award winning Leytonstone born Talvin Singh who will collaborate with celebrated digital artists Greenaway & Greenaway, local students and electronic music producers from the borough to create an audio visual piece that will be projection mapped on to the borough's great Town Hall building.
World-renowned Addictive TV will create a brand new piece of music working with the borough's own artist as part of the opening weekend, whilst artists Marshmallow Laser Feast will work with composer Erland Cooper in collaboration with local choirs and schools to be staged in Walthamstow's Lloyd Park.
 Forest Road which connects the two sites will be transformed into a celebratory winter carnival featuring groups and individuals drawn from the borough and beyond – and everyone is invited to the celebrations.
 The Mall Walthamstow will support the delivery of a magnificent year for the borough, its residents, London and beyond. As headline partner, The Mall's support will continue throughout the year and they will be branding and positioning the Mall's information desk as the London Borough of Culture hub for information about the programme of events.
Cllr Clare Coghill, Leader of Waltham Forest Council, said: "The Mall Walthamstow has been an engaged and committed supporter of the borough, its future and its communities over the years and we are really excited to have them on board as we approach the start of our amazing year.
"The Mall's support will allow us to deliver a fantastic year and help our local creative community continue to grow and make a cultural impact for our borough. This partnership and the Mall's existing involvement in the borough will form part of our lasting legacy."
 The Mall will get the opportunity to engage with the community, local businesses and support a cultural programme that involves partners, artist and volunteers.
 Rebecca Bird, General Manager of The Mall Walthamstow said: "We are long-term investors in Walthamstow and were proud to support its bid to be London Borough of Culture. We look forward to working with Waltham Forest Council to make this year an unforgettable celebration of the Borough's unique creative heritage."