4' 33" (Prepared Pianola for Roger Bannister) on view at the Mall
This work by Mel Brimfield was commissioned by the Government Art Collection for the exhibition, 'Commissions: Now and Then', held at the Whitechapel Gallery, London from June to September 2012. Brimfield's presentation consists of a prepared pianola (a self-playing piano), a 'ball run' system triggered by visitors to the gallery, and related documents. "4'33", a 1952 composition by US experimental composer John Cage (1912-1992), is referenced in the title but not played. The actual score for the pianola takes as its starting point, athlete Roger Bannister's performance in the 1952 Helsinki Olympics where he came fourth - the race that spurred him on to his sub 4 minute mile. The battle during the race for the lead, fragments of national anthems and echoes of theme tunes to British television sports programmes are all referenced. Brimfield's practice investigates performance art - from standup comedy to dance, theatre and political activism - and often relies on second-hand anecdotes or made-up stories that she further distorts creating a new fiction.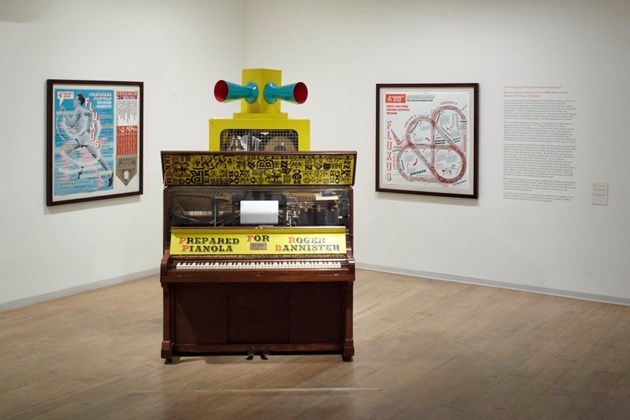 You can view the Pianola from:
Monday 15th April - Sunday 5th May
Monday - Friday 12:00 - 18:00 Played 4 times a day
Saturday 12:00 - 18:00
Sunday 12:00 - 16:00
Collaborators:
Pianola Consultant and Build: Rex Lawson
Percussive Switch: Giles Walker
Letter Press and Print: Ryan Gillard
Composer: Paul Higgs
Producer: Keri Elmsly
Original Score by Paul Higgs with an excerpt from 'Pop Looks Bach' by Sam Fonteyn(copyright 1970 Cavendish Music Co Ltd.) Excerpt used by permission of Boosey & Hawkes Music Publishers Ltd.