Coronavirus update
As announced by the government, non-essential retail will have to close as part of the second lockdown from Thursday 5th November – Wednesday 2nd December.
Non-essential stores can however open for click and collect services only if they choose to and food outlets can still offer takeaway and delivery services.
Ahead of the lockdown some stores will also be trading later on Wednesday 4th November.
See below for current trading information. Store opening times may vary from their regular times and the centre's opening hours so please contact stores directly for confirmation
UPDATED 5th NOVEMBER
Open throughout lockdown (subject to change):
Asda
Boots 
Dr &Herbs
Halifax
Holland & Barrett
Lidl
Lloyds
Superdrug
Timpson
The Home Store
Click & Collect
Costa 
CEX (drop off only)
Pret
The Fragrance Shop
The Perfume Shop
Vodafone
JD Sports
Waterstones
Takeaway/delivery services (Food & Beverage)
Important information for when visiting The Mall
We want everyone in our centres to feel as safe as possible and ask our shoppers to please adhere to the government's guidance on social distancing to reduce social interaction between people to help prevent the transmission of Coronavirus (COVID-19):
Do not

 

enter the centre if you are experiencing any of the COVID-19 symptoms
Maintain a distance of at least 2 metres from all other members of the public
Strictly observe the centre's social distancing measures as instructed by staff and stores
Wear a mask all times unless you have legitimate reason to do so. 
Face Coverings
Please be aware that wearing a face covering while shopping is mandatory for those aged 11 or over unless you are exempt and have a legitimate reason not to do so. 
Wearing face coverings helps prevent the spread of COVID-19 and visitors not wearing one may be approached by our centre team. Thank you for your cooperation. 
The following stores are currently selling face coverings and masks while stocks last: 
Boots, Claire's, Holland and Barrett, Superdrug, River Island, Sports Direct, JD Sports, TKMaxx. 
There is also a Maskey vending machine located at the Town square entrance of the Mall.
Video highlighting some of the changes at The Mall 
 


One way system
We are operating a "keep left" system for travel through the centre to assist with social distancing. Shoppers should turn left when exiting shops and follow the arrows. The routes are simple to follow and provide easy access.


Limited capacity
For your safety and in order to maintain social distancing, we can only allow a limited number of shoppers in at any one time. From the 15th June we will use our footfall technology to operate a traffic light system, which will be clearly displayed at all entrances and on social media. 
RED status: we have reached shopper capacity – please join the queue to safely enter the centre.
AMBER status: we are near to reaching shopper capacity – please be prepared to queue to safely enter the centre.
GREEN status: the centre is free flowing – no queues, a good time to shop.
We are also limiting numbers of people in toilet and baby change facilities, escalators and lifts at any one time
Car parks
Please use contactless payment methods wherever possible. Chip coins will be cleaned after every use.
Stores
All of our stores are expected to comply with government guidance and to have a social distancing policy in place for staff as well as adequate and clear instructions for shoppers. Our team are on hand to help and advise.
Please expect shops to have limited capacity, and that you may need to queue at times to get into individual stores.
We want everyone in our centre to feel as safe as possible and ask our shoppers to please adhere to the government's guidance on social distancing to reduce social interaction between people to help prevent the transmission of coronavirus (COVID-19).
Update as of 18th June 2020 
Just landed - our brilliant Maskey vending machine!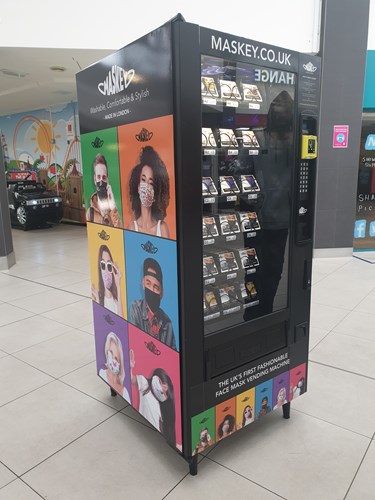 Pick up a stylish, ultra-comfortable, and washable face covering - made in London by @Maskey.UK (FB) / @Maskey_UK (TW) / @maskey.uk (IG) - now located at our Town Square entrance, outside @CostaCoffee (ALL)!
Share your pics with us below too! 😷📸
Asda has now introduced Scan& Go
Shop smarter. All you have to do is scan and bag the items as you shop, using the Scan & Go Mobile app and breeze through the dedicated card checkouts.
Gokyuzu has also reopened for Delivery only
Mon - Sat 11am-11pm
Supporting local businesses*
About | Waltham Forest Connected
Established in March 2017, Waltham Forest Connected was set up to help bring businesses, voluntary sector, and community groups in Waltham Forest together to network, share ideas and promote growth.
For more information please select the following link
https://wfconnected.org/about/
Covid-19 Ward map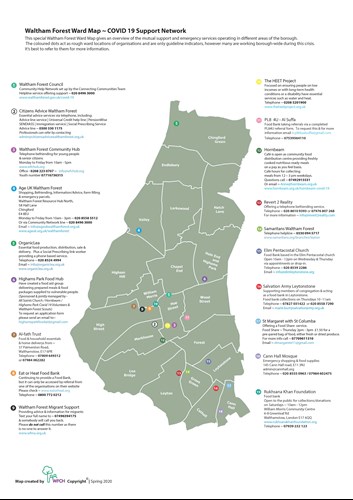 Customer notice: From 7pm on Thursday the 9th April, due to reduced customer usage we have made the decision to close the -2 area of the car park (commuter area)
This will reduce the number of available parking spaces to 508
We have not reduced the number of family or accessible parking pays on the upper level and are currently still operating a free parking facility
Coronavirus fact sheet for children
Information for children to help them understand what Coronavirus is, the importance of hand washing and how to help stop the virus spreading.
This was developed by the Alder Hey Children's NHS Foundation Trust.
To download your own please go to:
https://campaignresources.phe.gov.uk/resources/campaigns/101-coronavirus-/resources

The Gym
Is temporarily closed until further notice. For membership information please see here: https://www.thegymgroup.com/coronavirus-information/
 To view the latest message from Cllr Clare Coghill
Please visit https://content.govdelivery.com/accounts/UKWALTHAM/bulletins/282eee5

For updates on the coronavirus in the local area of Waltham Forest, please visit https://www.walthamforest.gov.uk/content/coronavirus-latest-information