Blackhorse Workshop Kit Kite
VIRTUAL CULTURE PROGRAMME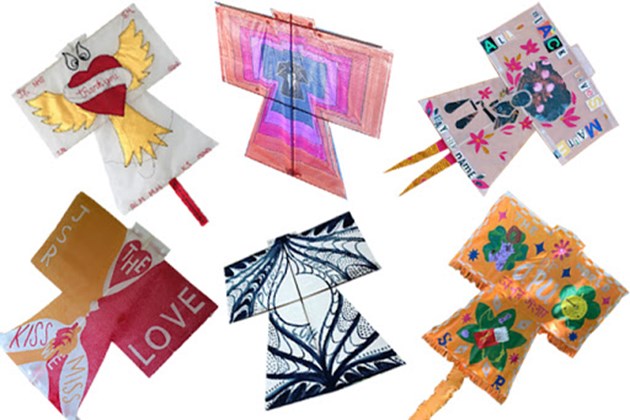 Blackhorse Workshop created 1000 kite-making activity kits to families across the borough during lockdown as part of Waltham Forest's Virtual Culture programme. All materials and instructions were included for residents to build and customise their very own kimono kite, a symbol of freedom. They were invited to dedicate their creation to a lockdown hero or a missed loved one.
Ten professional artist-makers from Waltham Forest were commissioned to design a kite using their own skillset including processes such as screen printing, embroidery, potato printing, collage, map-making, painting and digitally drawn with a CNC machine.
Adam Azmy, Misbah Siddique, Lauren Wilson and Adam Vaudin, Mary Fitton, Daniel Heath and Laura Perryman, Hannah Ford, Korantema Anyimadu, Lauren Edmondson, Zarah Hussain, Stephen Mackie and Dominique Golden.
Funded by Waltham Forest Council as part of Waltham Forest Virtual Culture programme designed during the COVID-19 pandemic.
Thanks to 'Images in Frames', Walthamstow.
The Kites can be viewed within the Mall near the High street entrance above Three mobile. Make sure you check it out! 
To find out more about the project visit http://www.blackhorseworkshop.co.uk/kit-kite-inspiration/