ENERGY CAFÉ SPARKS INTEREST FROM SHOPPERS AT THE MALL
The Mall played host to a pop up Energy Café on Tuesday 5th September.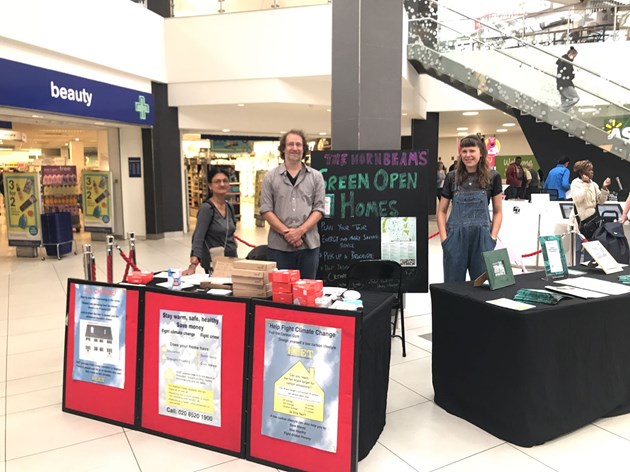 The Café, which was situated outside Boots, was manned by representatives from local organisations, HEET, The Hornbeam and Forest Recycling Project and attracted well over 100 interested shoppers. As well as talking to HEET's expert energy advisors about how they could save up to £300 on their fuel bills, shoppers were able to find out more about recycling and upcycling from Forest Recycling Project and get information on the upcoming Green Open Homes initiative from The Hornbeam.
Marketing Manager at The Mall, Rebecca Bird, commented: "We held a similar event last year which was very well received and attracted a huge amount of positive feedback from customers interested in finding out more about Green Open Homes and looking to save money on their energy bills."
Green Open Homes takes place on the weekend of the 16th and 17th September at homes across Waltham Forest and provides a fantastic opportunity for people to view properties that have been made greener, warmer and cheaper. This year approximately 18 homes around the borough will be taking part and inspiring people to go green. For further details visit http://www.hornbeam.org.uk/new-events/greenhomes/
Talking about the event, Tom Ruxton from HEET, a not-for-profit organisation which operates in the London boroughs of Waltham Forest, Redbridge, Enfield and Haringey, said: "The event went really well and between the three organisations we spoke to approximately 120 people. Twenty three people completed an energy advice questionnaire and received one-to-one energy saving advice. Of this group, 12 people were assessed as being eligible for HEET's services and signed up to a home visit that will hopefully lead to them having free energy efficiency measures installed.
"There is so much diversity and choice in Waltham Forest that it is difficult to find a venue where we can meet and speak to a cross section of the borough's residents but The Mall is one place where we all do come together and mix. This makes it an ideal place for HEET to hold its Energy Café."
 Rebecca added "After last year's success we were more than happy to welcome the team back to The Mall. It's great to support local organisations and give them a platform to promote their services to our customers. We also made a donation of £250 to support the very worthy Green Open Homes initiative.