Accessibility
Being at the heart of the local community we are committed to ensuring all our guests enjoy their experience of shopping with us and offer a wide range of services for people with disabilities. There are lifts (with audio) to all floors of The Mall Walthamstow. our entrances have either automatic doors for easy access and ramps provide easy access from the car park. Assistance dogs are always welcome. Hearing loops are fitted at our Ask Me Point desk to assist the hearing impaired.
Shopmobility
You'll find SHOPMOBILITY in Service Yard 3 (entrance from the Mall is between District and The Body Shop) where you can hire automatic wheelchairs, manual wheelchairs or powered scooters.  Our main doors are automatic for easy access and guide dogs are always welcome.
Opening times:
Monday
10.00am - 2:00pm
Tuesday
10.00am - 4:30pm
Thursday
10.00am - 4.30pm
Friday
10.00am - 4.30pm
Closed on:
Wednesday, Saturday and Sunday
SHOPMOBILITY telephone number 020 8520 3366, fax 020 8520 6418.


Disabled toilets
 
The disabled toilet is within easy reach on Level 1. It's free of charge and is controlled by Radar keys, which can be obtained from SHOPMOBILITY in Service Yard 3. For added peace of mind there is an emergency alarm inside the toilet, should you need it.
Disabled parking

We have Disabled parking bays which can be found on both Level -1 and Level -2 
Quiet Hour

The Mall understands busy crowds and loud noises can be overwhelming and daunting for some guests and therefore we will hold one quiet hour for children during every family event we run, for details please see our What's On page for upcoming events.
---
Freshen Up
We want you to shop in comfort. That's why at The Mall Walthamstow we pride ourselves on the accessibility and high standards of our Freshen Up toilet facilities. They can be located on Level 1. Toilets are also available on Level -1 by the lifts outside Costa Coffee.
Baby Fresh
It's no fun for little ones (or you) when they are uncomfortable. At The Mall Walthamstow our Parent and Baby room has nappy change units and also a separate large toilet that provides pushchair access for all our little visitors with their parents. There is also a private nursing mother's area located within these rooms, which are situated on Level 1, accessible by the stairs, ramps, and lifts. It's clean and secure, so you can all take time-out and refresh.
---
WiFi
Free WiFi is available for shoppers at The Mall Walthamstow. To access the service, check that WiFi is enabled on your device and select '_The Mall Free-WiFi' from the list of available networks. Open your internet browser and The Mall Free-WiFi landing page should appear. If it is your first time using The Mall Free-WiFi network follow the simple one-time registration process.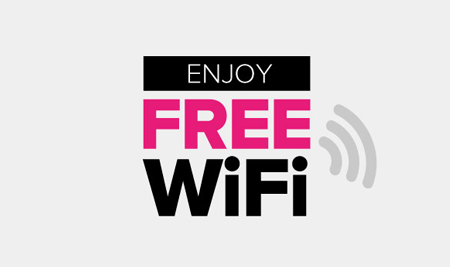 ---
---