River Trail Launching Saturday 26th March
Maidstone River Park are proudly launching their Nature trail on Saturday 26th March, its perfect,  you can enjoy the lovely sunny days and head down to the River Medway and follow the trail.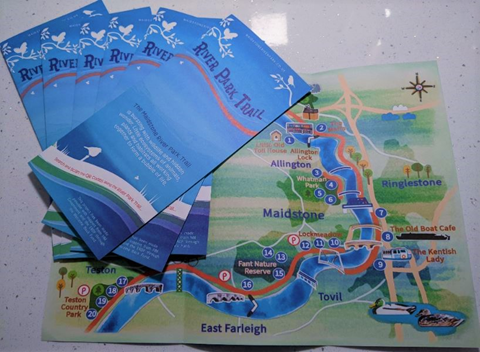 Maidstone Borough Council has worked with Maidstone River Park, Medway Valley Countryside Partnership and The Old Boat Cafe to create a fantastic nature trail along the River Medway between Allington and Teston.

Deputy Mayor of Maidstone Cllr Derek Mortimer is launching the new river trail on Saturday 26 March at 11.30am by the Old Boat Café, between the two main bridges in Maidstone. It has been designed for families and has 20 posts marking the trail, each with a rubbing plate on the top and a small information plaque. It also includes a QR code to provide more details about the wildlife and habitats.

Special packs have also been produced for the first 1,000 users to enjoy the trail which will be available at the Old Boat Café from 11.30am on the 26 March. Each pack contains a sketch book, supplies and a trail map. Packs can also be obtained from the kiosk at the Kentish Lady, The Little Old Toll House Café and Teston Park Café.
for more details click here