Baby Shark and Blue from Blues Clues and You at The Mall on 13th November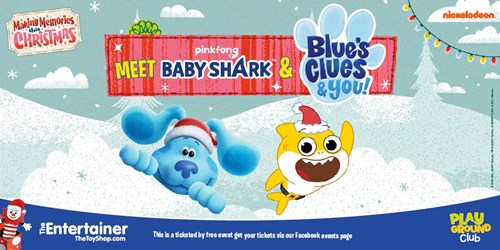 Head down to The Mall on Saturday 13thNovember where pre-school favourites Baby shark and Blue from Blues Clues and You will be making an appearance.  Come and meet Blue, the energetic and playful blue puppy from the Nickelodeon series where the clever puppy leaves pawprint clues for the host and viewers to find the answer to a question. Baby shark, the star of Baby sharks big show will be making a splash at The Mall. The series follows Baby Shark and his best friend William as they journey on fun-filled adventures in their community of Carnivore Cove.
They will be located on the upper-level opposite to Moo Boo Tea.
Times
Baby Shark - 10am – 10.30am, 11am – 11.30am, 12pm – 12.30pm, 1pm – 1.30pm & 2pm – 2.30pm
Blue's Clues - 10.30am – 11am, 11.30am – 12pm, 12.30pm – 1pm, 1.30pm -2pm & 2.30pm – 3pm
Please note  - The queues will be closed to allow the characters to rest on time. Characters will be appearing one at a time.
Why not visit The Entertainer Toy store after where they have a range of toys relating to the popular puppy and shark.  However, fancy winning Blues and Baby Shark prize bundle worth £50 from The Entertainer ?  You just need enter our competition. Simply visits either our Facebook page or Instagram  , then like the post, follow/like our page and tag a friend in the comments , along with your favourite animal emoji! The competition is running from 6th November to midnight on  13th November 2021.  For full Terms and Conditions click here