Meet a Character at the Entertainer
The Entertainer would like to invite you, the kids or whoever to the Entertainer, in the Mall Maidstone, to some very special "Meet a Character" events that will be taking place throughout the year. You will be able to meet Jack-In-The-Box, the Entertainers' very recognisable store character followed by many more loved characters that your kids would love. The events will take place outside the Entertainer Maidstone and will occur for one day only so, for any little fans out there, it would be a treat to see. Below, you will find more information about each "Meet the Character" event including, a date and whom will be making an appearance. The Entertainer and the Mall hope to see you there.
Jack 29/02/2020
This February, you can meet the Entertainers own, Jack-In-The-Box! On the 29th of February, head down to the Entertainer, in The Mall Maidstone, to meet the Entertainers' famous mascot that all kids love. It is a one-day only event, so make sure to put it in your calendars and have an exciting visit, with the kids, to the Entertainer and have those jumping for joy.

Lego Lucy 02/05/2020
Are the Kids' or even yourself fans of the Lego Movie? Then they would love to meet a certain character that is coming to the Entertainer, in the Mall Maidstone, on the 2nd of May. The crime fighting, super Lego Block Lucy will be making an appearance in the Entertainer! A one-day only event is perfect for any Lego Movie fans out there.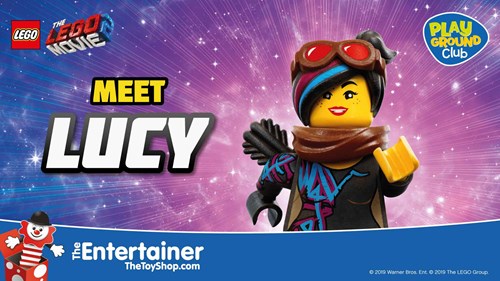 Lego Batgirl 27/06/2020
The third, but certainly not the last, Character event that is happening in the Entertainer, located inside the Mall Maidstone is the awesome superhero Bat Girl! Any fans of the Lego Batman Movie will be overjoyed to meet this hero from the movie. The event is taking place on the 27th of June, and like the others, it is a one-day only event.

Lego Kai and ELC Pirate 05/09/2020
There will be a double character event-taking place on the 5th of September at the Entertainer, inside the Mall Maidstone. You and the Kids will be able to meet the last of the Lego Characters' appearing in store this year. Lego Kai from the Lego Ninjago series.

For all the younger Entertainer shoppers out there, the Early Learning Centre (ELC) Pirate will be mooring his vessel to make a special appearance at the Entertainer Maidstone. Two Characters on one day, what an incredible treat to end the summer!