Boots No7 Alert!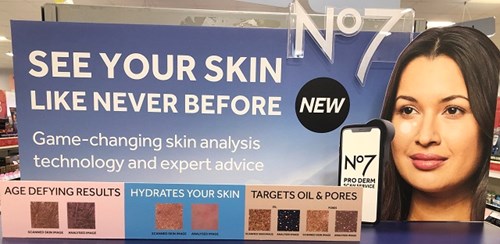 The moment you have been waiting for… Introducing our NEW No7 Pro Derm Scan Service, a personalised consultation with your No7 Beauty Advisor to help you see and understand your skin.
Check out Maidstone Boots Tick Tock to see how it works

Boots are hailing this as a game-changer that will allow you to see your skin as never before.  The Pro Derm scan is scientifically validated technology that  analyses skin and skin tone simultaneously, with 20 million skin areas analysed per scan. It has been co-developed with the assistance of Prof. Rod Hay, Consultant Dermatologist
 The device delivers high-resolution scanning that detects very early, subtle changes to skin before they become apparent to the naked eye through its Hydration Sensing, Magnification, and Special Lighting features.
The results of the analysis will then allow your No7 Advisor to recommend the best skincare products and skin regime, foundation range or shade match for your unique skin and lifestyle needs.
The Pro Derm Scan service offers four different personalised consultations:
Full skin & colour analysis - Full skin analysis & foundation match
Skin analysis - Discover your skin health
Foundation fitting - Find the best foundation for your skin's needs
Foundation shade match - Shade match across all No7 foundations