FG Barnes' SEAT Ibiza is here!
 FG Barnes will be exhibiting various cars in The Mall...
This week with the All-new SEAT Ibiza which is located on our Gabriel's Hill location, 
In 1953 the first SEAT rolled off the Barcelona production line and since then they have not stopped. The Ibiza is the freedom to choose, it's easy to be yourself. Choose the trim, the colour, the wheels and upholstery. You're in charge. The SEAT Ibiza comes with more technology, more space and adventurous spirit comes as standard. Look sharp with the Ibiza's bold exterior lines, crafted with a combination of Computer Aided Design and savvy engineering.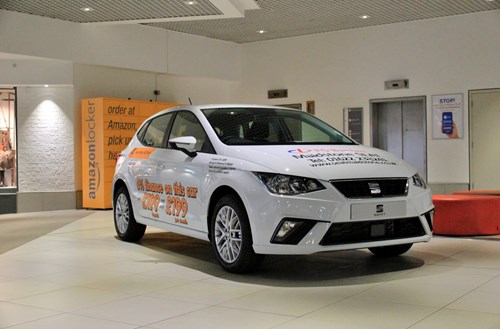 Behold the new SEAT Ibiza which combines the latest SEAT technology with head-turning looks, to help you get the most from life. Wherever the city takes you, turn on your full LED headlights and get there in style. Turn up your Beats Audio sounds and share everything on your networks with Full Link technology. The integrated Navigation System can help with longer journeys and whatever the road brings, your SEAT Ibiza has you covered. From Adaptive Cruise Control, Front Assist and Tiredness Recognition systems to Hill Hold Control, Electronic Stability Control and a Tyre Pressure Monitor. With all this you can simply relax and enjoy the ride.
From whatever angle you look at the all-new SEAT Ibiza - its sharp, confident, powerful and definitely stands out from the crowd. Everywhere you look, the design details catch the eye. The double exhaust on the FR trim gives the car a sporty look and the Ibiza's bold exterior blisters, crafted with a combination of Computer Aided Design and stylish engineering make it look fast, even when stopped at the lights.
The surprisingly spacious interior has a great looking dashboard and an 8" touchscreen which puts everything at your fingertips. Apple CarPlay, Android Auto and Mirror Link are all available through the touchscreen and the SEAT drive profile and rear view camera makes life even easier.
From Keyless entry to amazing technology the all new SEAT Ibiza is highly specified and highly responsive to your every need. Your smartphone can be integrated with the Ibiza's infotainment system and with Beats Audio, a glorious 300W amplifier, six speakers, high-end subwoofer and audio extravaganza you will always be heard.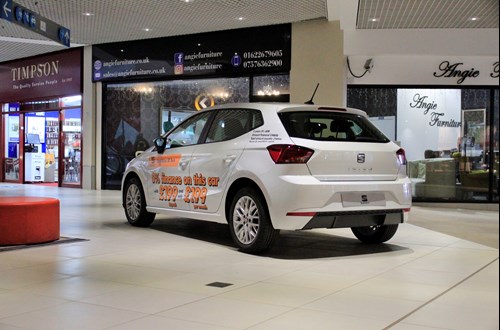 To find out more about the Seat Ibiza, click here