Luton Carnival returns to the town centre
Luton International Carnival is back for its 46th year as part of Luton's platinum Jubilee weekend celebrations and UK Centre for Carnival Arts (UKCCA) has announced that they are planning for a return to the town centre.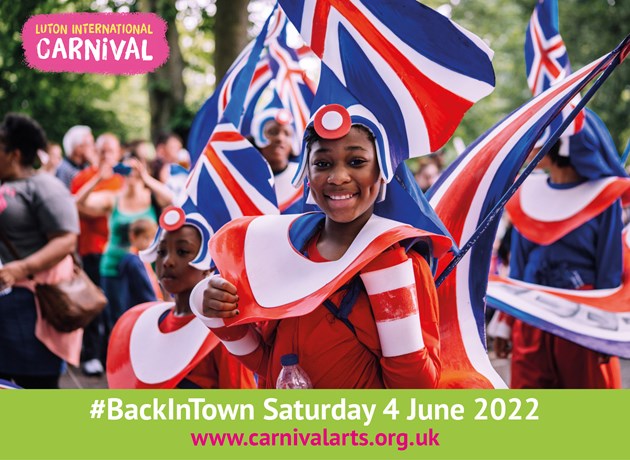 This year's theme is Our World Our Future and will include local Carnival performers from across the town's diverse communities and organisations. Schools, sports clubs, dance, theatre, refugee groups, cultural and health groups are expected to take part, along with music groups, drummers and brass bands. There will also be a nursery carnival and pre-parade entertainment along the route.  
The UK Centre for Carnival Arts (UKCCA) is excited to be back on the road hosting the 46th Luton International Carnival with support from primary funder, Luton Rising. Other funders and supporters in the town Luton BID, Luton Council, Love Luton and The Mall. But it would not be possible without the hundreds of returning volunteers who will take to the streets on the 4th June to support the parade making a special day for all the family. 
Luton International Carnival is a key date in Luton's events calendar, providing opportunities for those wanting to get involved to join their creative team. Residents are also invited to create their own carnival band.  
Luton's reputation as a carnival town was cemented with the opening of the UK Centre for Carnival Arts (UKCCA) in 2009 and Luton International carnival forged its way to being the biggest one-day carnival in the UK by 2012. This hugely popular event returns after a two-year hiatus due to the COVID-19 pandemic on Saturday 4th June 2022 from 12 noon to 6 pm. 
Visit www.carnivalarts.org.uk or check out their social media for more information.