Digital Detox Day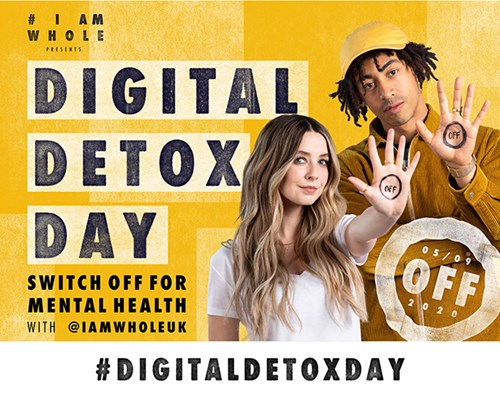 #IAMWHOLE have announced a brand new concept, Digital Detox Day which will take place on Saturday 5th September 2020.
Digital Detox Day is a world-first collaborative project with #IAMWHOLE, LUSH and Zoe Sugg (Founder of Zoella). Fronted by Zoe and #IAMWHOLE co-founder Jordan Stephens (Rizzle Kicks), DDD aims to bring awareness to the negative effects that social media can have on our mental health, encouraging social media users to build a healthier relationship with these platforms and their devices. Digital Detox Day will ask participants to step away from social media for one whole day, taking time out for their mental health and themselves.
There will also be a very special activation that will be revealed on the day.
In the week leading up to Digital Detox Day, #IAMWHOLE will be releasing a series of discussion panels around five key talking points on Zoe's IGTV channel: Body Image, Cyberbullying, Anxiety, Human Connection and Setting Digital Boundaries. The campaign will also be encouraging members of the public to draw a circle on the palm of their hand with the word 'OFF' in the middle the day before on Friday 4th September 2020, to signify that they will be switching off from social media.
In addition, LUSH have confirmed that 40+ of their worldwide locations will be participating in Digital Detox Day, with 19 of these countries selling a limited edition bath bomb called IRL (£5.95). The bath bomb was created in person with Zoe and LUSH inventor Jack Constantine, to encapsulate her happy place of a beachside sunset in the bath. The fragrance is a new blend using mood enhancing oils including: neroli oil, orange flower absolute, ylang ylang oil and rose absolute. All money raised from the bath bomb will go into a fund where grants will be available to global grassroots mental health organisations.