YMCA SleepEasy Event 2019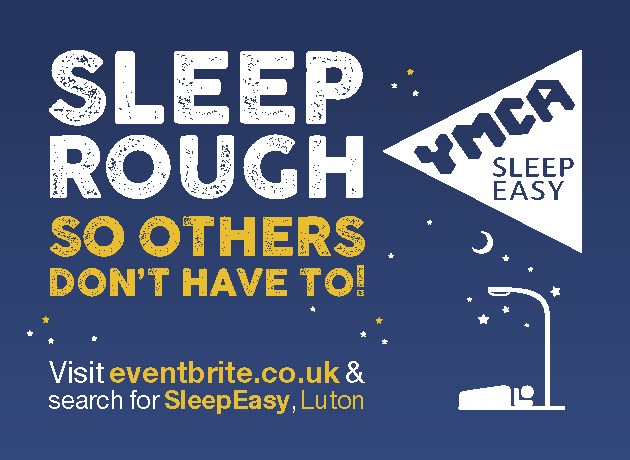 Each year YMCA Bedfordshire hold their annual SleepEasy Event where local businesses, individuals, families and youth organisations can join them to raise funds for their vital services and awareness of rough sleeping. This year the event is hosted and sponsored by The Mall Luton and will take place on Friday 15th March between 7pm and 7am.
For the last few years Luton has sadly sat at number 5 in the top 10 highest local authority rough sleeper counts and estimates within England. Local figures rose by 14% from 76 to 87 and it is feared this number will rise in the latest figures which will be released early 2019. To put this number into perspective Manchester was 4th and Bristol 6th.
This year you can take part in one of two ways:
Main Event - Outdoors
The Main Event will involve adults*, families** and business teams sleeping on/in The Mall's car park to raise money and awareness for homeless people sleeping rough and YMCA Bedfordshire.
Youth Organisations Event - Indoors
This event will involve young people's organisations sleeping overnight in The Mall Luton for the same cause. This will take place in and around Central Square at The Mall. 
There is a £10 fee per person to participate (youth group leaders are free) and we will be asking everyone to try and raise some sponsorship too. All of the fee and sponsorship money raised will go directly to YMCA Bedfordshire and focussed on Luton which will help and support people of all ages who rely on them for accommodation. This accommodation will also provide clients with the support and help they need to build the skills required to successfully move into their own homes one day.
For more information and to purchase tickets for the Main Event click here or for the Youth Organisations Event click here. 
If you are unable to take part but would still like to make a donation towards the cause then please do so at the event's Just Giving page here, where participants can also set up their own fundraising page linked to the event. If you would like a sponsorship form please contact lavinia.douglass@themall.co.uk. 
 * Adults must be over 18 years old.
** Children must be over 10 years old.