Hat Factory Reopening
#FACTORYRESET
Friday 6th September, 2019
Join Luton Culture at 8.00pm as award-winning theatre ensemble Tangled Feet join forces with Next Generation Youth Theatre, Revellers Steel Band, poet Lee Nelson and renowned aerialists Pirates of the Carabina to breathe new life into the redeveloped Hat Factory Arts Centre.
As darkness falls a crowd gathers, the building illuminates and starts to call to the people below. Bodies dance in windows, spill out onto the walls and dance up to the sky inviting us all to join the party.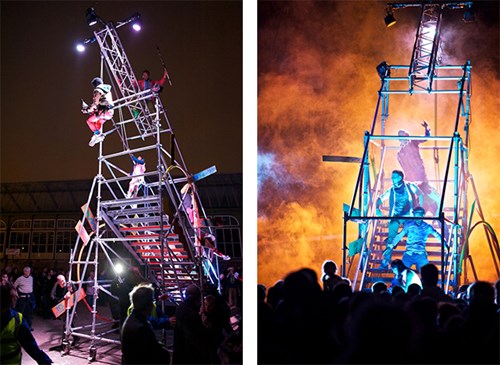 Saturday 7th September, 2019
From 11am – 11pm Luton Culture invite you to attend a day of creativity at the Hat Factory Arts Centre as local, regional and national creators, entertainers and makers take over the building.
From paint jams to jamming out with a drum ensemble, from audio-visual tech mixes to mixing it up on the dance floor, join them for a packed day of performance, film, art, music, comedy and more. Come on in to explore Luton's Arts Centre in the heart of the Hat District.