Grotto Quiet Sessions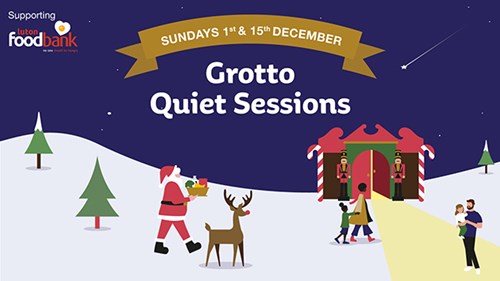 We would like to open our Giving Grotto early on Sundays 1st and 15th December from 9am - 11am to provide quiet sessions for children with special sensory needs, and any other needs, to ensure no one misses out on the opportunity to meet Father Christmas.
On the quiet mornings, although the centre will be open to the general public, shops will be closed therefore creating a much quieter and more relaxing environment. There will be no background music and we'll have plenty of staff on hand to ensure any questions/needs are fulfilled. As the centre normally opens from 9.30am and shops at 11am, the centre may start to get busier towards the end of the session, so please be aware of this. The earlier you visit, the quieter it is likely to be.
If there is no queue, the entire experience will probably be around 10 minutes, maybe a little longer for multiple children. Please do feel free to bring siblings who don't have special needs, but please be aware there is a cost for every child wishing to participate in the experience. But remember ALL proceeds go to Luton Foodbank, back to families in need in the local community.
Parking is free for this event from 8.30am – 11.30am. Please bring your chip coin to the Ask Me Point where it will be validated by a member of our team.
There is no planned fire alarm. If an alarm sounds, please exit using the nearest entrance or find a member of The Mall team, who will assist you.
Quiet sessions are not pre-bookable. If you would like any further information or have any specific requirements you would like to discuss, please email lavinia.douglass@themall.co.uk or call 01582 412636 and ask for Lavinia.
For more information about the Christmas Grotto, including prices, please click here.