Poppy Appeal 2018
To launch this year's Poppy Appeal The Mall Luton will host a magnificent replica spitfire, the RAF's most iconic aircraft, in Central Square on Saturday 27th and Sunday 28th October.
Lytham St Annes' Spitfire Ground Display Team have restored a full size replica Spitfire Mark IX and help educate the public on the realities of fighting in the RAF during WW2. For any budding future pilots, the cockpit of the spitfire will be open for viewing and photos* between 11am and 2pm each day, for a £5 donation.
In partnership with the Royal British Legion, the Poppy Appeal and Poppy Shop will then run until Saturday 10th November, offering a wide range of poppy merchandise from brooches and scarves to traditional paper poppies. The Legion uses donations to offer support in many ways including providing crisis grants, researching the impact of blast injuries on the body, lobbying the government on key issues, and advising on benefits and money problems.Plus the community will have a chance to purchase an extra poppy to place on The Mall's giant poppy sculpture.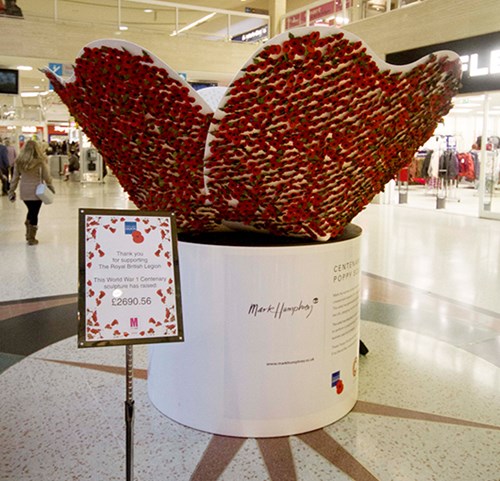 Local community groups will also be in attendance during The Mall's 2018 Poppy Appeal , including 4th Stopsley Rainbows and Brownies who will be collecting for the Royal British Legion by creating a giant poppy out of £1 coins and also offering poppy crafts for the younger community in Central Square between 10am and 4pm on Saturday 3rd November.  
For details on the Royal British Legion's Service of Remembrance for Armistace Day in Luton, click here.