Meet Father Christmas at The Mall!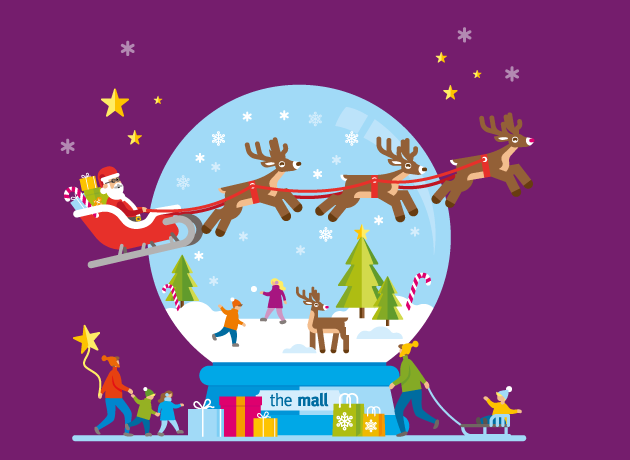 Visit Father Christmas in the enchanted fairy castle in Central Square.
Make your own magic reindeer food to help Rudolph fly, then visit Father Christmas and receive a gift - £4.50 per child.
Photo packages also available to treasure your magical visit at an additional cost:
Platinum - £20.00
Glitterframe, bauble, 2 x photo mounts and keyring.
Gold - £16.00
Snow Globe, 2 x photo mounts and keyring
Silver - £14.00
Bauble, photo mount and keyring
Photo mount - £7.00
Keyring - £6.50
Bauble - £8.50
Snow globe - £11.50
Glitter frame - £14.00
Open every day from Friday 23rd November until Christmas Eve, full opening times below.
Turn up on the day, or to beat the queues pre-book online at bookfatherchristmas.co.uk/luton
Special needs sessions
Quiet sessions: Sundays 2nd & 16th December 9am – 11am
Signing session: Saturday 8th December 10am – midday, where families with deaf or hard of hearing children will be given a priority visit.
Special needs sessions are not pre-bookable. For more information on these please email AMP.Luton@themall.co.uk.
Fri 23rd Nov: 11am - 5pm
Sat 24th Nov: 10am - 6pm
Sun 25th - Fri 30th Nov: 11am - 5pm
Sat 1st Dec: 10am - 6pm
Sun 2nd Dec: 9am* - 5pm
Mon 3rd - Thur 6th Dec: 11am - 5pm
Fri 7th Dec: 11am - 6pm
Sat 8th Dec: 10am - 6pm
Sun 9th - Thur 13th Dec: 11am - 5pm
Fri 14th Dec: 11am - 6pm
Sat 15th Dec: 10am - 6pm
Sun 16th Dec: 9am - 5pm
Mon 17th - Sat 22nd Dec: 10am - 6pm
Sun 23rd Dec: 10am - 5pm
Mon 24th Dec: 10am - 3pm