Muffin Break have launched two new product lines for you to try
The first is a premium Sourdough Baguettes range, a lighter option for lunch during the warmer months of the year. They use a great tasting and rustic looking bread with a selection of different fillings made fresh every day.
The choices:
Tuna & Salad Sourdough Baguette
Gammon & Salad Sourdough Baguette
Gammon & Brie Sourdough Baguette
Prosciutto, Salami & Gouda Sourdough Baguette
Egg & Mayo Sourdough Baguette
Chicken Caesar Sourdough Baguette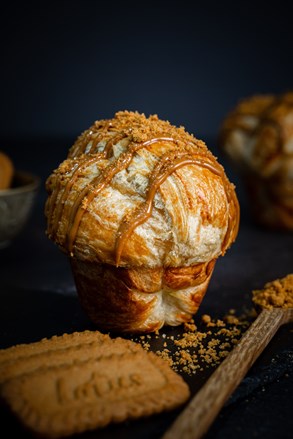 Lotus Bakeries has partnered with national artisan bakery, Muffin Break, to launch an original Muffin Lab creation, the Lotus Biscoff 'Duffin'. Containing an indulgent centre and drizzled topping of Lotus Biscoff Spread, the Duffin is any sweet tooth's dream! The Lotus Biscoff Duffin is available now.
The unique creation of a Duffin was first sold by Muffin Break in 2016 and has become a firm favourite on menus ever since. As with all of Muffin Break's creations, the Lotus Biscoff Duffin is freshly baked in-store every morning and made using the finest ingredients.