Introducing Corporate Gifting… the Lush way!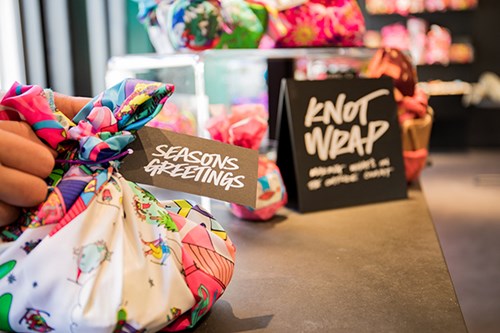 How can Lush help you gift the most wonderful, scentsational, thoughtful and sustainable gifts to your employees and clients?
With the recent announcement of many British employers pledging to improve the standards of mental wellbeing among the workforce, it's more important than ever to prioritise self-care. This festive season, Lush will be offering a corporate gifting service to enable businesses to treat clients and employees to a much needed pamper this Christmas.
When you buy a Lush gift, you're having a positive impact on the world – you're saying no to excess single-use plastic; you're supporting communities and artisans who've made the Knot Wraps, ribbons, and natural papers; you're buying products with beautiful ingredients that regenerate social and eco-systems. 
WHAT CAN LUSH OFFER?
An abundance of pre-wrapped gifts using reusable, recyclable materials

Personalised gifts – make your own gift using a Lush Knot Wrap, reusable fabric gift wrap filled with products of your choosing or discuss additional customised gifting options with your Lush concierge.
The ultimate gift of relaxation… did you know Lush has 8 Spas across the UK? Lush Spa gift vouchers deliver the ultimate wow feeling to the lucky recipient.
To start your Lush corporate gifting journey, simply get in touch with Lush at The Mall Luton to speak to their dedicated corporate gifting concierge.
Find out more at uk.lush.com.