A brand new way to party at Lush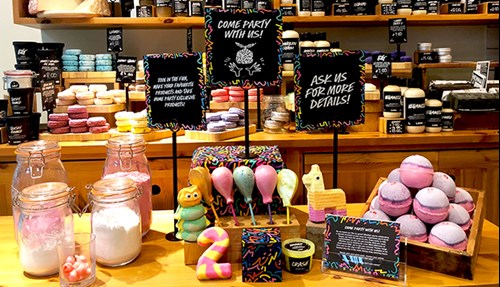 Shindig? Hootenanny? Get-together?
Whatever you call it, Lush are no strangers to a great time and like to think they know their way around a good party or two. Lush parties are the perfect way to regale, revel and relax and are totally tailor made to you.
You get to choose everything; from the overall theme to the games played to the products made and even pick from a range of exclusive products to take home! So what are you waiting for? Let's party!
What happens at a #LushParty?
Parties are one and a half hours long and are available to be booked directly with the store. When you book, choose from two different themes: Fun and Games or Treat Yourself.
Each choice will set the mood for your party. For an energetic and vibrant atmosphere, go for Fun and Games or, for a more laid back tone, opt for Treat Yourself. Every party booking includes a selection of games and activities tailored to you, a product making kit of your choice, and an exclusive party product for each of your guests. The guest of honour gets something extra special too. Choose three of their party exclusive products and receive them in a special Party Animal gift to take home on the day!
How much is a Lush Party?
Parties cost £25 a head which involves everything detailed above. There is also a mandatory £5 per person minimum deposit taken at the time of booking which gets deducted off the amount paid on the day.
How do I book?
Lush parties are super popular! To avoid disappointment, make a provisional booking by emailing or via phone on 01582 457056.
Unfortunately, payment cannot be taken over the phone so you will need to pop into store afterwards and place the deposit to secure your booking.
**COMPETITION**
Visit Lush Luton's Facebook page for the chance to win a party for 4 people Worth £100!!. Winner to be announced on Monday 15th July.
For more information about Lush Parties check out their Party Policies here.