Spring Collection at PANDORA
POETIC BLOOMS
Dark days give way to spring's glorious light. Capturing the beauty of this momentous event is captivating hand-finished jewellery, blossoming with wondrous florals in pastel tones and evoking the sweet splendour and sophistication of springtime.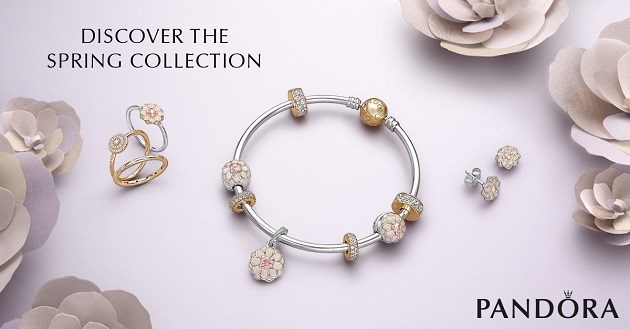 DAISY LACE
Inspired by the upcoming fashion trend of needle lace, daisies gracefully intertwine on this intricate pendant necklace. The richly detailed sterling silver shapes reinvigorate the appeal and aesthetic of classic broderie anglaise.
GEOMETRIC FLORALS
Referencing the geometric motifs and patterns seen on spring's catwalks are graphic interpretations of beautiful blooms. Elegant stud earrings and rings in 14k gold and sterling silver depict the concentric centres of flowers, created with delicately decreasing, stone-studded circles.
COLOUR DROPS
Glossy cubic zirconia and crystals adorn sterling silver and 14k gold rings; their iridescent colours and bold shapes echoing the fashion influences of pastels and new pop culture. The stones' unique buff top cut with chequerboard facets underneath create fascinating light effects.
FORGET ME NOT
Combining the trends of micro florals and lace in a way that is purely PANDORA, dainty forget me not flowers, resplendent with clear and purple-hued cubic zirconia stones, decorate the ornate openwork of this unforgettable statement ring.