Five Guys is now open!
American flavours have arrived in The Mall Luton as Five Guys opened their latest restaurant in St George's Square marking its 46th restaurant in the UK.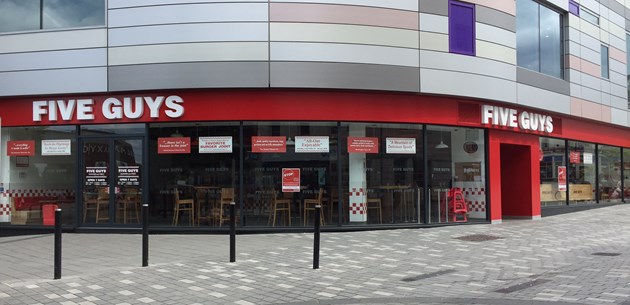 Offering a range of delicious burgers, hot dogs, sandwiches and fries with the option of adding as many free toppings as you like, diners can top their burgers with mayo, lettuce, pickles, tomatoes, grilled mushrooms, hot sauce, relish, jalapeno peppers and much more.
In fact, their variety of toppings mean that if you were to eat a Five Guys once a day, it would take you 684 years to try all of the different burger and topping combinations!
Five Guys Facts
There are over 250,000 possible ways to order a burger at Five Guys.

They use only fresh ground beef.

There are no freezers in Five Guys locations, just coolers. Nothing is ever frozen.

They only use peanut oil