MIRROR MIRROR ON THE WALL…
STAR CAST ANNOUNCED FOR THE BEST PANTOMIME OF THEM ALL!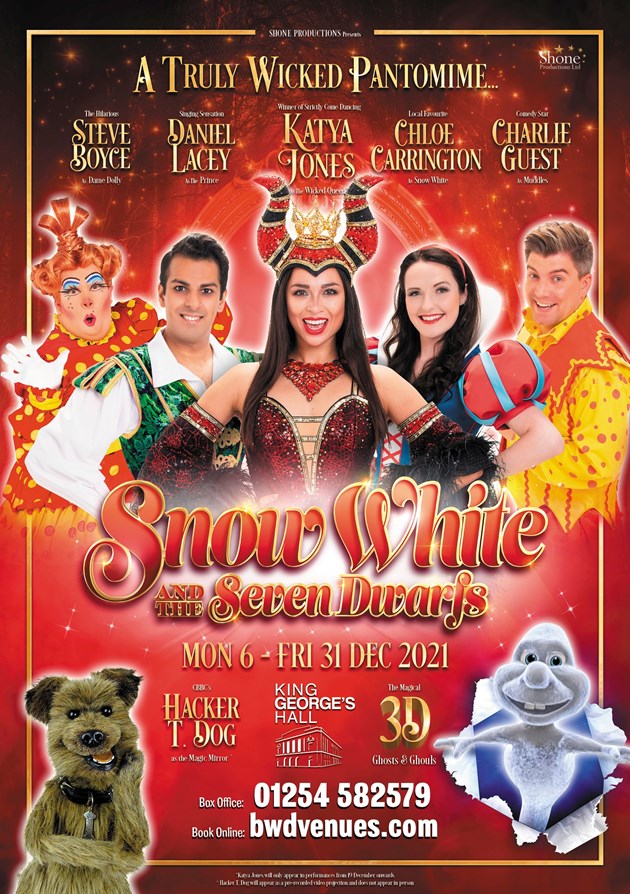 Shone Productions Ltd presents Blackburn's Biggest Ever Pantomime. Snow White & The Seven Dwarfs at King George's Hall. From 6th until 31st December 2021.  
Starring Strictly Come Dancing Champion – Katya Jones as The Wicked Queen*, CBBC's – Hacker T. Dog as The Magic Mirror*, Comedy Star – Charlie Guest as Muddles, The Hilarious – Steve Boyce as Dame Dolly, Local Favourite – Chloe Carrington as Snow White, Singing Sensation – Daniel Lacey as The Prince & Introducing – Helen Farrell as The Fairy.
This magical pantomime features a delicious blend of beautiful scenery, colourful costumes, a live band, dazzling dance routines, great songs and plenty of laughter.
Come and join the beautiful Snow White and her seven little friends from the enchanted forest as they attempt to defeat the evil Wicked Queen who is overcome with jealously when her magic mirror declares that Snow White is the fairest in all the land. Will Snow White meet her handsome Prince and live happily ever after?
Book now to avoid disappointment. Tickets are on sale at 01254582579 or visit
PERFORMANCE DETAILS
SNOW WHITE & THE SEVEN DWARFS
King George's Hall, Blackburn – BB2 1AA
Monday 6th Until Friday 31st December 2021
Tickets: £13 - £19 (Family Tickets Available)
* Please Note Katya Jones Will Only Appear in Performances From 19th December
* Hacker T. Dog will appear as a pre-recorded video projection and does not appear in person.