Bubble Rush fun at Pleckgate High School 2018
Take part in the biggest and best foam filled fun run around!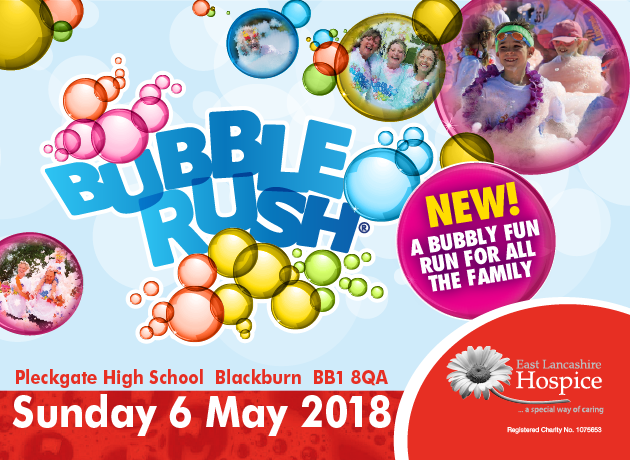 East Lancashire Hospice are raising funds with a brand new event. It begins with a pure white bubbly start and then four different coloured bubble stations await, as you run, walk or dance along the route!
Hosted by 2BR the event village includes - Live music, merchandise and all you need to go bubble mad!
 OPEN FOR ENTRIES NOW! CLICK HERE TO REGISTER
The first 200 to register online will receive 50% off the adult price of £20 making early bird registration £10 for adults, and just £4 for children. This is a massive saving so don't miss out!
By registering you are agreeing to raise funds or make a personal donation which will go towards caring for patients.
Please ensure you read the Terms & Conditions before booking.
If you have any questions about the event please email Leanne.green1@eastlancshospice.org.uk or call fundraising on 01254 287 011.
East Lancashire Bubble Rush is organised in partnership with East Lancashire Hospice