Win a £25 H&M gift card
Share a selfie to The Mall Blackburn's facebook page of you donating old clothes at the H&M store inside The Mall Blackburn for a chance to win a £25 H&M gift card!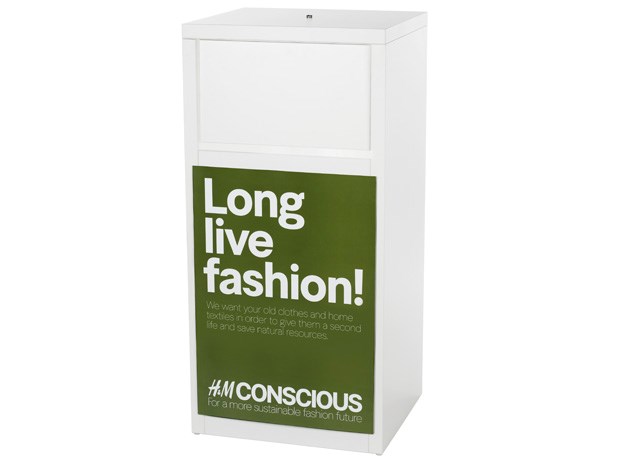 Plus, in return for each donated bag of clothes and textiles, H&M are giving their customers a £5 discount voucher to use for your next H&M purchase of £25 or more.
Our planet's resources are not endless. By recycling, you help save natural materials and contribute to closing the loop for textile fibres. Don't underestimate your clothes' potential to a second life – drop off the garments you no longer want or need at H&M and they will give them a new life.
Don't let fashion go to waste!
H&M is committed to changing the way we make, use and dispose of our clothes. Of the thousands of tonnes of textiles that people throw away every year, as much as 95% could be re-worn or recycled. H&M was the first fashion company to launch a global garment collection initiative in 2013. 

Today, customers can hand in to H&M any clothes and textiles (from any brand and in any condition) they no longer want. Every H&M store has at least one garment collecting box by the cash desks. In return for each donated bag of clothes and textiles, customers in the UK receive a £5 discount voucher to use for their next H&M purchase of £25 or more. 

H&M's mission is to reduce waste and give old products a new life and eventually close the loop on textiles so nothing ever goes to waste.
No true fashion lover likes seeing clothes go to waste. H&M wants to make it as easy as possible for you to give your garments a new life. For example, they've already made some new collections from worn clothes – many of which came via their own Garment Collecting service.
There are three ways to repurpose the unwanted garments:
Re-wear – clothing that can be worn again is sold as second hand clothes
Reuse – old clothes and textiles are turned into other products, such as cleaning cloths
Recycle – everything else is turned into textile fibres, or other use such as insulation
When re-wear, reuse and recycle are not options, textiles are used to produce energy. Nothing goes to waste.
H&M invest any money they make from this service into social projects, as well as research and innovation projects on how old textiles can be turned into new fibres. Which means in the future they'll be able to get rid of clothes waste altogether.
£25 H&M gift card competition - Terms and conditions
The Prize
6 winners in total will receive 1 x £25 H&M gift card, the prizes available are shown below:
The Mall Blackburn – 2 x £25 H&M gift card, The Mall Luton – 2 x £25 H&M gift card, The Mall Wood Green – 2 x £25 H&M gift card
How to enter
To enter, participants must upload a picture of themselves donating clothes at the recycling point inside H&M at The Mall Blackburn, The Mall Luton or The Mall Wood Green to our Facebook page (listed below) using the hashtag #HMrecycleandwin
The Mall Blackburn Facebook – https://www.facebook.com/themall.blackburn
The Mall Luton Facebook - https://www.facebook.com/themallluton
The Mall Wood Green Facebook - https://www.facebook.com/themall.woodgreen
The competition runs from Tuesday 31st May to Sunday 5th June
The winner will be selected at random and posted on our social media channels on Monday 6th June.
By entering this competition you are agreeing to be contacted using the details provided on our social media channels
The decision of the winners is final and no further correspondence or discussion shall be entered into.
The winners shall be notified & arrangements of the delivery or collection of the prize will be made.
If the winner fails to contact us within 5 days of the announcement date, or fails to comply with these terms and conditions, such winner shall be considered to have forfeited the prize & a new winner may be selected.
No photo entry may contain unlawful, obscene or objectionable material.
Winner's photos may be used in publicity online, in the press and on social media.
No prize or cash alternatives are available however we reserve the right to provide alternatives of a similar or higher value if the prizes become unavailable for reasons outside of our control. 
The prize is non – exchangeable or transferable.
For further details regarding H&M gift card terms and conditions please visit www.hm.com
Entry is open UK residents aged 18 or over, excluding Mall employees and their relatives, agents of the Mall or anyone professionally connected with the activity. 
This competition is open to residents of the United Kingdom only.
The entrant agrees that The Mall Corporation shall not be liable for any claims, cost, liabilities, damages, expenses and losses arising out of participation in the competition.
The Mall reserves the right to cancel, amend, terminate or temporarily suspend this promotion in the event of any unforeseen circumstances or technical reason outside its reasonable control with no liability to any entrants or third parties.
Promoter: The Mall Corporation Limited, 52 Grosvenor Gardens, London, SW1W 0AU.