Sustainability at The Mall
Our commitment to sustainability at The Mall Blackburn is to reduce our impact on the environment in the three key areas of waste, water and energy.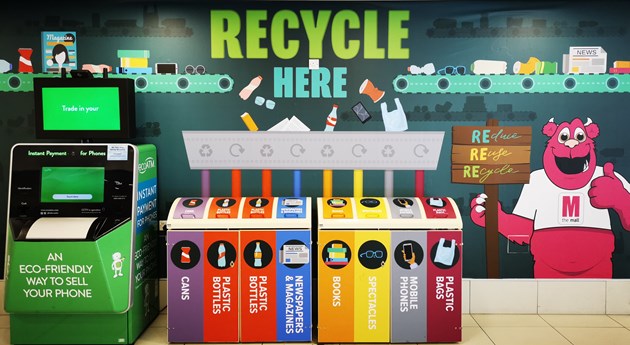 In addition, we continue to focus on reducing our carbon footprint. By committing to making a change at a local level, we can aim to build a better world for us all.
Enviromall
The EnviroMall initiative is the first partnership accreditation scheme developed specifically for shopping centres and aims to assist them and their retailers to improve their performance and reduce their impact on the environment.
In 2020:
We have recycled93 tonnes of cardboard the equivalent to 1581 trees.
We recycled 146 food bins, which is the equivalent of 160,600 litres of food which is sent to an anaerobic digester which harvests natural gases reducing our carbon footprint.
47 paper dovales have been recycled by us. It takes 24 trees to produce each ton of newspaper, equivalent to 168 trees.
We have reduced our electricity consumption by over 200,000 kilowatt hours(kwh). Enough energy to heat one average family home for 42 years.
Our retailers who also take sustainability seriously:
H&M- H&M stock many garments containing more sustainable materials across all departments all year round – just look for the green Conscious hangtag. Plus hand in your bag of old clothes at the cash desk and receive a £5 voucher to use towards your next purchase of £25 (or more). All clothes are either reused, reworn or recycled with 0% going to landfill.
schuh- Sell Your Soles initiative in partnership with Recyclatex. Bring in your used, unwanted or outgrown footwear to store to send off for recycling - they don't even have to be from schuh! Then you'll receive a £5 off* voucher to buy a fresh pair. (*T&Cs apply, see in store for details.).
The Body Shop- return your empty plastic bottles, tubs, tubes and pots to store so TerraCycle® can collect to recycle or repurpose into new items like park benches or playgrounds.
Wilko – They have committed to ensuring a minimum 30% recycled content across its plastic packaging by April 2022.
The Perfume Shop – Have you heard about their empty perfume Bottle Recycle Scheme? Don't bin them! Take them to one of their stores and they will recycle them for you. Taking recycling to the next level they have partnered with Eden Reforestation Projects (Eden) to help give back to our planet. Eden plant trees in locations around the world. For every bottle recycled with them, they will donate the cost of planting one tree to Eden Reforestation Projects, to help them carry out their amazing work and help you feel good when you smell good.
New Look – They b

ecame one of the first global fashion retailers in the world to achieve both the Carbon Neutral Gold Standard and UN Climate Neutral Now Participation.

This means that they are now officially net zero carbon for all their direct operations.