New Juice Bar Now Open
The Juice Bar opened in April opposite Burger King here at The Mall Blackburn.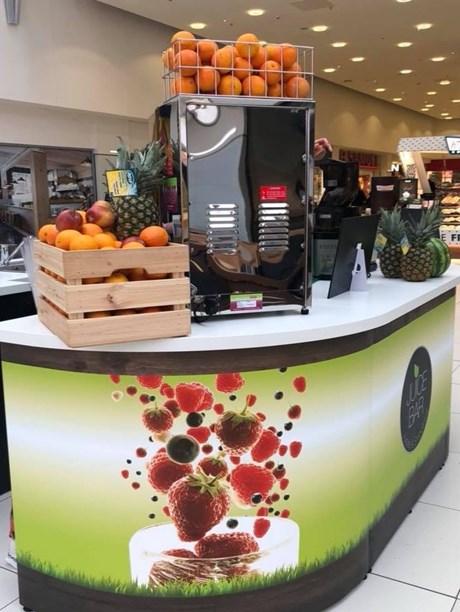 Sharon Aharoni has been trading as Aharoni's within Blackburn since 1992 and within Blackburn Market since July 2011, selling traditional English breakfasts all day, jacket potatoes with lots of fillings, cold sandwiches on brown or white teacakes or batons, toasties and burgers and piegatas. In May 2014 Sharon complimented her current take away menu by adding juice products to the menu. 
As the Juices are now so popular, Sharon decided to further expand the family business after carrying our research around Blackburn town.  Research highlighted that there was a shortage of places where you can purchase a natural cold pressed juice, a freshly squeezed orange juice or diary free fresh fruit smoothies, all made in front of you.  The health benefits of the juices are that they contain natural ingredients which boost your immune system, nourish your skin from the inside and, generates a feeling of wellbeing.
Sharon Aharoni who's been juicing for years, said "we need to stay away from the fizz.  Anything that grows on trees or in the soil is better for you. Some people feel that the expense of a fresh juice or smoothie compared to a bottle of coke isn't worth it, but I disagree. One glass of freshly squeezed orange juice contains almost 7 oranges packed full of nutrients and fulfils the recommended 7 a day fruit and vegetable intake".
Also available at the 'Juice Bar' are pre-packed protein bars, cookies and biscuits and protein shots!
Show your student ID or RewardME card for 10% off.
Student discount information – CLICK HERE
RewardME discount information – CLICK HERE
 For more information click the below links: