Deals and more atThe Entertainer
The Entertainer have some amazing events coming up plus some essential features and services to make your shopping experience even more satisfying. Just take a look below!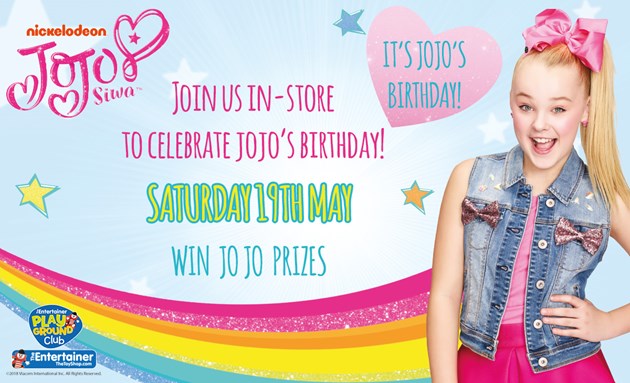 JoJo's Birthday Party
Saturday 19th May is Jo Jo Siwa's Birthday and to celebrate The Entertainer are holding an in store party! Pop into store and share a photo of you taking part in the celebrations with the #JoJoParty to win a fantastic personalised JoJo Prize bundle from Create Your Own.
May half term
Join the team in-store Monday – Friday during the half term and take part in some awesome toy demonstrations, including:
Screechers - Screechers are the only vehicles that drive, flip and morph into beast mode. Use the collectible discs to activate the transforming action. Can you handle the awesome power of the Screechers?
Lego Ninjago Spinjituz – Join us in store and see if you can master the awesome force of Lego Ninjago? Spin them, race them and battle them!
Keep an eye out some fantastic in store competitions, which are running in-store between, Thursday 24th May – Wednesday 20th June.
Screechers – to celebrate the fantastic in store demos they have an equally awesome competition to win one of three Screechers toy bundles and one of our lucky winners will also win a IPad!
Lost Kitty's – Can you find all the Kitty's hidden around the store? Find them all word out the secret word for your chance to win!
Cant get into store? The Entertainer also have a couple of fantastic social competitions running Thursday 24th May – Wednesday 20th June:
PJ Mask – Collect your very own PJ Mask colouring sheet from your local The Entertainer colour it in and share with the #RomeoAtTheEntertainer for your chance to win one of two a PJ Mask Romeo's Lab worth £50
Super Bounce – This May Half Term we are asking you to #BringYourSpring share your videos of bouncing your Addo Super Bounce putty for your chance to win all 55 colours of Super Bounce Putty!
Summer Toys
With the summer now upon us, is it time to think about getting some toys ready for summer? The Entertainer have a great selection of great outdoor toys, from paddling pools to playhouses and trikes and ride on's to goals and lots more!
Check them out here!
Out Door Toys
With the summer slow but surely arriving we have some great outdoor toys! Including:
Scooters
Trikes
Water Blasters
Nerf
Playhouses
And much more
The Entertainer currently have some fantastic savings (25 – 30 % off) Little Tikes Toys outdoor toys, including the classics of:
Easy Store Slide
Activity Gym
4-in-1 Trike
Top Toys
Available at The Entertainer are still the home of Top Toys!
LOL's – The Entertainer currently have LOL Series 3 Confetti Pop, Sisters and LOL Glitter Series on Pre order and still have stock of the LOL Big Surprise in stock
Slime – They love Slime and Putty at The Entertainer, with their fantastic in store "Slime Zones" including the exclusive Nickelodeon Liquid Lava Putty and JoJo Putty to make your own slime.
Untamed – These baby Dinosaurs are by the same people who gave us Fingerlings and are being a roaring success! Pop into store to have a hands on untamed experience.
Squishies! Be it Smooshy Mushy, Soft'n Slo, Squish-Dee-Lish, Squish Squashies these slow rising foam toys are all the rage.
Kinetic Rings – Made from a single piece of metal, the ring starts life flat before springing into a 3D spiral. Slide it onto your arm to perform loads of cool spinning tricks!
Crazy Clear Out
The Entertainer are having a bit of a Spring Clean with our great Crazy Clear out! Running online and in all stores from 26th April – 23rd May they will have some great savings on top toys including:
Marvel
Nerf
Transformers
PlayDoh
Hasbro Games
Mega Weekend!
It's another MEGA WEEKEND running online and in all stores from Thursday 26th – Monday 30th 10 great toys with at least 50% off up to 75% off, including Star Wars, My Little Pony and more!